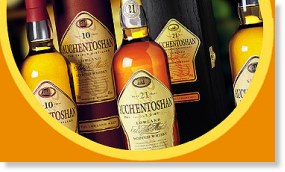 Auchentoshan Distillery was established in the Dumbartonshire estate of Auchentoshan in 1823. Since then it has had six careful owners who have handed down its unique production process.

This Lowland Malt Distillery rests at the foot of the Old Kilpatrick Hills, overlooking the famous River Clyde, once renowned as the Scottish gateway to the world. From this vantage point, Auchentoshan Distillery has witnessed many historic sights over its long existence. From the sailing ships loaded with both legal and illegal whisky, leaving the Clyde, destined for the four corners of the world. And the huge Clyde built ships, such as the Queen Mary and Queen Elizabeth I & II, the hallmark of shipbuilding and Engineering excellence. To the vast cargoes of spices, tobacco, cotton and wines arriving in Scotland that made Glasgow such a prosperous trading city.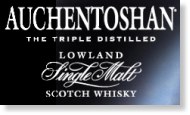 Auchentoshan, meaning `Corner of the field' in Gaelic, produces a delicate, smooth and light single Malt Whisky. The subtle aroma and flavour of its Spirit is achieved by the unique Triple Distillation process, whereby the spirit is not distilled twice, as elsewhere in Scotland, but instead, distilled three times producing even greater refinement to its character.
The distillery has been extensively refurbished since its acquisition by Morrison Bowmore Distillers Ltd in 1984, although it still retains all its traditional production methods including its unique Triple Distillation process.
Color:

Golden Honey.

Nose: Crème brulee, a burst of citrus and the signature nuttiness and green leafiness of Auchentoshan.

Palate: Smooth and sweet with hints of tangerine and lime.

Finish: Gingery and slightly drying with a pleasant lingering nuttiness.

Comments: Triple distilled and matured for over twelve years. The result: a Lowland single malt whisky with the tempting aroma of toasted almonds, caramelised toffee and the signature smooth, delicate, Auchentoshan taste.

Colour:

Rich Golden Bronze.



Nose:

Blackcurrant, brown sugar, orange, plum and raisin.



Palate:

Fruit and syrup. Hazelnut with hints of cinnamon and lemon. A butterscotch sweetness adds to the overall complexity.

Finish: Fresh and fruity with long lasting oaky sweetness.



Comments:

This is the classic Lowland malt, triple-distilled, light, but with plenty of complexity and character to in its own right. The distillery is just outside of Glasgow, hidden in a hollow between the river Clyde and the Kilpatrick hills. In 1984 it was acquired by a private company, Stanley P. Morrison as a Lowland partner for its Islay and Highland distilleries, Bowmore and Glen Garioch.
The Auchentoshan Distillery


Auchentoshan Distillery's position as a long cherished landmark on the Glasgow horizon dates back to the time it was granted its distillery licence in 1823. Throughout its long history, the distillery, one of only a few remaining Lowland Malt Whisky Distilleries, has witnessed the development of Glasgow from its early industrial days, that saw its shipbuilding supremacy famed the world over, through to the modern and cosmopolitan Glasgow seen today.

Appreciated by connoisseurs for its smooth flavour and by those new to malt whisky for its lightness and accessibility, Auchentoshan Single Malt is one of only a few remaining Lowland malts. Even in this select company, Auchentoshan is unique; while others distil only twice, Auchentoshan Distillery continues the tradition of triple distillation. The whisky we create is worth the time and effort. Light, fruity, sweet and delicate, it shows surprising depth of character for its years.
Why not visit us today to get a true insight into Glasgow's greatest gem – Auchentoshan Lowland Single Malt Scotch Whisky.

TAKE OUR TOUR

One of our friendly team will talk you through the magic of scotch whisky distilling:

MALTING the barley which is the first stage in the process.

MILLING & MASHING in which the malted barley is ground into a type of flour called grist and then mixed with hot water in a vessel called the Mash Tun.

FERMENTATION in which yeast turns sugar from the barley into alcohol.

DISTILLATION – Find out about Auchentoshan's unique triple distillation process.

MATURATION – Step into the cool, dark warehouses where Auchentoshan spirit slowly matures – for five years or more – and enjoy a bit of the 'Angels' Share'!

Fully ensconced in the art of making whisky, you may now learn the art of appreciating whisky. Join one of our Whisky Master Classes and follow the 5 simple steps to getting to know your drams. Alternatively, drop by our Shop for a dram and browse our selection of whisky, clothing and other gifts.
Daily Guided Tours Daily guided tours of the distillery take place every day and last approximately 45 minutes. Monday - Sunday from 10am - 4pm.

Tour Frequency: Tours run on the hour every hour. Last tour starts at 4pm.

Group Tours: We welcome party bookings by appointment.

Cost: Adult £5 - Under 18s accompanied with an adult go free (up to a maximum of 5).

Visitor Centre
Monday - Sunday: 10am - 4pm.

Enquiries: Tel: +44 0141 558 9011