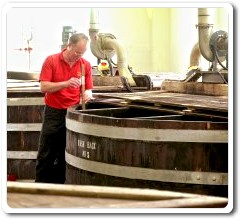 Aultmore Distillery lies several miles north of the town of Keith on the eastern fringe of Speyside. The distillery was established by Alexander Edwards in 1895. Edwards also owned the Benrinnes Distillery and in 1898, he acquired the Oban Distillery, creating the "Oban and Aultmore-Glenliver Distilleries Ltd".

Initially, the Aultmore Distillery did very well and doubled production in the first few years. However, it was unfortunate that trouble was just around the corner. Edwards had been a large supplier of bulk whisky to Pattison's of Leith, a major blending company and in 1898, Pattison's collapsed. As a result, Edwards was hit very hard.
Although production continued at Aultmore, times were often difficult. Pattison's downfall led to a surplus of Speyside Malt whisky on the market; prohibition in America and the 1920s depression also took their toll. In 1923, Dewar's purchased Aultmore along with Ord, Parkmore and and Pultney distilleries in order to earmark more raw materials for their blend. Aultmore, which was highly respected by blenders, was considered topnotch in its class.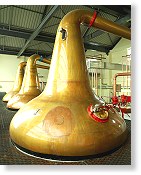 As in many malt whisky areas, a thriving illicit still community existed. The numerous burns and the peaty springs of the Foggie Moss provided the water, and the publicans in Keith were willing customers. Not all the smugglers were men and one of the better-known operators selling 'small-still' whisky was a woman called Jane Milne!
In 1971, the Aultmore Distillery was rebuilt and a second pair of stills were added to the original pair. Virtually nothing remains of the original distillery. Shortly thereafter, it was purchased by United Vintners & Distillers (UVD) and then in 1998, Bacardi - which is the parent company of Dewar's - bought the Aultmore Distillery.