Caperdonich Whisky Distillery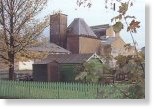 The Caperdonich Distillery was built in 1898 by Major Grant due the increase in demand for whisky and as a back-up to Glen Grant. Major Grant's father, James and his uncle John built Glen Grant across the street in 1840. One of the most notable characteristics of Capedonich was the famous 'whisky pipe' which was placed above the street and carried spirit which merged with the flow from Glen Grant. Locals took adavantage of the easy access to this famous pipe, drilled holes in it and took spirit for their own.

The distillery was closed down in 1902 due to the Pattison Crash and it fell silent for 65 years. After it reopened in 1965 by Glenlivet and Glen Grant, it was expanded. Two new steam heated pot stills were added to the original two, a modern tun room and the latest technology enabled the distillery to be run by a staff of just one or two. Caperdonich produced 350,000 gallons of spirit in its first year after reopening.
There are no official bottlings of Capedonich and the independent bottlings tend to be very old. In addition, single malt bottlings of Caperdonich are limited editions and very difficult to find. Single malt bottlings are available by Cadenhead, Douglas Laing, Duncan Taylor and Gordon & MacPhail.

Pernod Ricard acquired Capedonich in 2001 from Seagram and in 2002, it was mothballed. There are no visitor facilities.