Glenburgie Single Malt Scotch Whisky
Glenburgie Distillery, By Alves,
Forres, Morayshire
IV36 2QY Scotland
Tel: +44 (0)1343 850258
Viewer's Comments about Glenburgie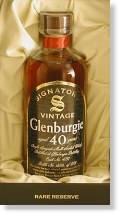 Glenburgie Distillery's history can be traced all the way back to 1810 when it was just a small stone building called Kilnflat. The distillery operated under the name of Kilnflat until 1878 when at that time it was then renamed Glenburgie. Ownership of the distillery changed throughout the years, and in 1936, it was aquired by Ballantine's. Hiram Walker, an American grocer and distiller who showed a deep understanding of Scotch whisky distilling was the owner of Ballantine's. The company eventually merged with Allied Distillers which was then bought by Pernod Ricard in 2005 and is Glenburgie's present day owners.

For a time, the distillery was actually producing two different whiskies, Glenburgie, and another malt, known as Glencraig, which was named after Mr William Craig, production director of Ballantine's at that time. He was actually one of the few men to have a single malt named after him. Some Glencraig can still be found but it is unlikely to be distilled again as in 1981, the Lomond Stills were replaced by a pair of conventional pot stills. Limited quantities of this very rare malt are available under Gordon & MacPhail's Connoisseurs Choice label. (Source: Gordon & MacPhail)



The whisky from the Glenburgie Distillery is an important component of Ballantine's blends. House style: An aperitif style Speyside, with herbal, nutty and fruity character.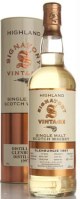 GLENBURGIE 12 YEAR OLD 1997 by Signatory
BOTTLING NOTES: A single cask Glenburgie, distilled on the 6th March 1997, matured in hogshead 1921 for 12 years before bottling on the 16th June 2009 by Signatory. A release of 444 bottles.

The Glenburgie Distillery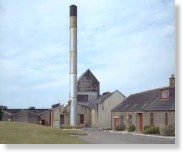 Set in a very attractive landscaped location, Glenburgie Distillery was first established in 1810, however, it was replaced toward the end of the 19th century by William Paul. Glenburgie uses water from local springs on nearby Burghie Hill which flow directly into a large collecting basin in the distillery grounds. "We have four pot stills producing lightly peated malt," says brewer Jockie Parson. "In the past there were two Lomond stills which produced a more heavily-peated malt bottled separately as Glencraig."

The distillery was closed between 1927 and 1935, but was reopened and is now run by Allied Distillers. Glenburgie does not have a visitor centre, although one can contact the distillery to see if a private tour can be arranged.