Glencadam Single Malt Scotch Whisky
Brechin, Smithfield Road
Angus DD9 7PA Scotland
Tel: +44 (0)1356 622217 / Fax: +44 (0)1356 624905
Viewer's Comments about Glencadam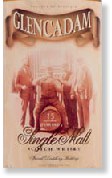 Glencadam Distillery, located in the ancient city of Brechin in the Highlands of Scotland, is the only distillery in the Angus region. It was founded in 1825 by George Copper, just one year after distilling was legalised in Scotland. The stills have a special shape, an unusual feature being that their pipes run upwards at an angle of 15° rather than downwards, helping to produce a particularly mellow flavour.

Throughout the years, ownership changed several times before coming under ownership of Hiram Walker & Son (Ballantine's) in 1954. Their purpose of obtaining Glencadam was for Ballantine's blends. In May 2003, the distillery became property of Angus Dundee Distillers Plc. Almost all the production is for blending and specifically for use in Ballantine's and Stewart's Cream of the Barley blends.

Glencadam Single Highland Malt Scotch Whisky Aged 15 Years is the first Single Malt from this distillery since 1825 which was distilled for the general public. It is exceptional. It is available in 70cl and I Litre sizes. Glencadam 15 Year Old won a Gold Medal at the International Spirits Challenge 2005, recognising it as a Single Malt of high quality which will be much sought after by the discerning consumer.



Angus Dundee Distillers Plc is an independent company with over 50 years' experience in the production, bottling, and distribution of fine Scotch Whiskies and other spirits. Angus Dundee also owns Tomintoul, a malt distillery which is located in the Speyside Glenlivet region. Their success is based on supplying top quality products at competitive prices.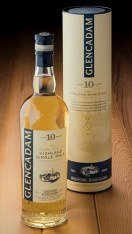 GLENCADAM SINGLE HIGHLAND
MALT SCOTCH WHISKY 10 YEAR
Colour: Straw gold

Nose: Lively, intense. Grassy freshness and citrus tones with hints of spicy oak.

Palate: Rounded elegance. Clean, crisp citrus tones. A pleasing harmony between a natural sweetness and the soft spicy oak.

Finish: Long and soothing. Rich, clean barley and gristy sweetness.


Tasting Notes Credit: Glencadam Distillery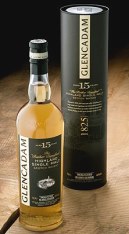 GLENCADAM SINGLE HIGHLAND MALT SCOTCH WHISKY 15 YEAR
Colour: Pale gold.

Nose: Salty notes with balance of sweetness. Delicate, elegant and charming.

Palate: Cut-grass juiciness with mouth-watering malty signature. Restrained sweetness caressed by soft oak.

Finish: Medium length. Oak balancing sweeter characteristics with malty reprise.

Tasting Notes Credit: Glencadam Distillery

Glencadam 15 Year Old has won many awards:
Highly Recommended" – USA Beverage Tasting Institute - 2004
"Best whisky", International Malt Whisky Festival, Belgium - 2005
Gold Medal Winner, International Spirit Challenge London - 2005
Silver Medal, Best in Class– International Wine and Spirit Competition, London- 2005
Gold Medal, Internationaler Spirituosen Wettbewerb, Germany - 2005
Silver Medal, International Wine & Spirit Competition London - 2006
Silver Medal, Internationaler Spirituosen Wettbewerb, Germany - 2007
Silver Medal, International Wine & Spirit Competition London - 2007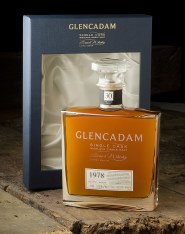 GLENCADAM "SINGLE CASK" HIGHLAND
SINGLE MALT SCOTCH WHISKY AGED 30 YEARS 1978
This rare, limited edition release has been bottled in an attractive clear glass square decanter and is presented in an elegant gift box. The whisky was distilled on the 6th of April 1978 and has matured ever since in Sherry cask number 2335. This cask was selected for the exceptional quality of the mature malt whisky therein. Bottled in March 2009 at 46% ABV, unchillfiltered, and without added colouring, only 615 bottles were produced and each bottle has been individually numbered. The bottle label also records the cask number and the date of distillation and bottling.

Colour: Deep amber

Nose: Pleasant with distinctive Sherry influence. Round, sweet and raisiny with suggestions of vanilla and cream

Palate: Sweet with some spice and generous hints of: vanilla, toffee, fudge, raisins, chocolate and candied peel. Good complexity.

Finish: Ample and powerful


Tasting Notes Credit: Glencadam Distillery
The Glencadam Distillery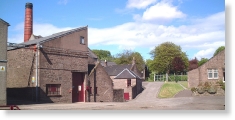 Glencadam Distillery is situated to the east of Brechin next to Glebe Park where the football team, Brechin City play their home matches. Its water source comes from springs in the Unthank Hills. It has one wash still and one spirit still. Its capacity is 1,400,000 litres of alcohol per year.

The distillery was renovated in 1959 and continued production until it was mothballed by Allied Distillers due to over-production in 2000. However, after Angus Dundee Distillers Plc acquired Glencadam in 2003, the distillery was revived.

Glencadam Distillery Tours
Hours: 2pm - 4pm, Mon - Thur; All visits by appointment

Group Bookings
Max: 10

Conact Us
Glencadam Distillery
Tel: +44 (0)1356 622217
Fax: +44 (0)1356 624905

The Glencadam Distillery does not have a visitor centre, yet tours are welcomed by appointment only.