Glenfarclas Single Malt Scotch Whisky
J & G Grant, Glenfarclas Distillery
Ballindoch, Banffshire AB37 9BD Scotland
Tel: +44 (0) 1807 500257 / Fax: +44 (0) 1807 500234
Viewer's Comments about Glenfarclas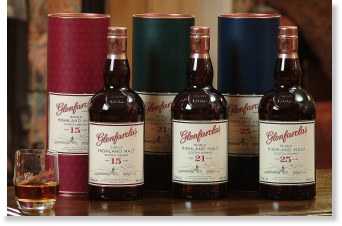 The story of Glenfarclas is as rich and colourful as the whisky that bears its name. It is a story of one Scottish family, the Grants, who since 1865 have been united in creating the Spirit of Independence which represents Glenfarclas' freedom to be uncompromising in commitment to the founding principle of producing superior quality Single Highland Malt Scotch Whisky. The Glenfarclas Distillery is situated on the Recherlich Farm at Ballindalloch and in the heart of Speyside. In 1836, the distillery was granted a Government licence to produce whisky. At this time, the licence was held by Robert Hay, who was the tenant farmer. However, after his death the farm and the distillery were left vacant and this attracted the attention of John Grant. The Grant family were prominent local cattle breeders, who were looking for an ideal halfway staging post between their farm in Glenlivet, and the market in nearby Elgin.
A tenancy agreement was successfully negotiated for Recherlich and Derrylane Farm in 1865. However, as part of the agreement, the distillery was purchased for £511.19sd. Since farming was the priority, the distillery was let out for five years to John Smith, who later went on to establish Cragganmore Distillery. However, during this time, the cattle drovers and workmen certainly enjoyed the sustenance of a dram of Glenfarclas!
In 1889, John Grant died, leaving his son George to run both the farm and the distillery. Sadly, George passed away not long afterwards. Subsequently, the licence for the distillery, was passed on to George's widow Barbara. She then appointed her two eldest children, John and George, to take care of the business.
In the 1890s, they formed the Glenfarclas-Glenlivet distillery company, with Pattisons of Leith. They held a 50% interest, but it was to prove to be a troublesome partnership, one which eventually dissolved. This left John and George in a predicament, but they were not disheartened and formed their own company, J.& G. Grant.
After many years of hard work and shrewd accounting, the future of Glenfarclas had been secured, and the Family's reputation firmly established. A rival distiller, wrote to the Grant family in May, 1912: "Of all the whiskies, malt is king, of all the kings, Glenfarclas reigns supreme", a sentiment the family still hold close to their hearts. The 1920s saw the retirement of John Grant, and George continued to run the distillery.
So on to 1948, which is remembered as the 'year of the party'. It was a social milestone for the Grant family that celebrated several anniversaries, even though the date did not coincide with any of them! At this time it was mistakenly believed that the distillery was first established in 1845, and once the war was over, George saw fit to hold a centenary celebration. Both his sons, John and George, had missed their 21st birthday celebrations, due to their wartime service, and George himself, had not been able to celebrate his own silver wedding anniversary. To mark this historic event, a photograph signed by all those who attended, still hangs in the Glenfarclas board room.
Unfortunately, George Grant passed away a few months later, leaving his widow and his two sons to carry on the name of Glenfarclas. William Strathdee, the distillery manager, was appointed a director, and under the guidance of John and George, the distillery continued to thrive.
The late 1940s saw the reform of the 1880s Spirits Act, which had hindered the production of whisky for years, as it had prohibited simultaneous mashing and distilling. It also prohibited the staff from working on a Sunday, so production had always been limited. This repeal of the Spirits Act, along with the eventual relaxation of wartime barley rationing, allowed production to increase significantly during the 1950s.
However, after all the success of the 1950s, the family suffered a great loss when John, at the age of thirty-five, suddenly died. This left his elder brother George S. Grant in charge, who served as Chairman of Glenfarclas for a remarkable 52 years. His son John L.S. Grant, joined Glenfarclas in 1973, and succeeded his father as Chairman in 2002. He also has a son, George, who represents the sixth generation of the Grant family and is the firm's Brand Ambassador.
Now 200 years since the birth of John Grant, his descendants continue to act as custodians of the Glenfarclas Distillery, and remain committed to the principle of producing superior quality Single Highland Malt Scotch Whisky. Whilst you may not find Glenfarclas in every supermarket, the Distillery's reputation is well regarded around the world. In March of 2006, Glenfarclas was named Distiller of the Year by Whisky Magazine "for being consistently good and staying true to its core values".

Glenfarclas is renowned for its traditional full bodied and well sherried style, and is only ever released at natural colour. Only the finest ingredients combined with the unique size and shape of the copper pot stills, traditional distillation methods, the specially selected oak casks and the style and location of the warehouses determine the final unique character of Glenfarclas.

The Glenfarclas portfolio includes the 10 Years Old, 12 Years Old, 15 Years Old, 21 Years Old, 25 Years Old, 30 Years Old and '105' cask strength. Glenfarclas Single Highland Malt Scotch Whisky continues to impress the tasting panels at both national and international competitions, year after year. Confirming the words of a great rival distiller in 1912, "of all the whiskies malt is king – of all the kings Glenfarclas reigns supreme."

The Family Casks For Glenfarclas, 2007 has been the year of The Family Casks, our new collection of 43 single casks, with one cask bottled from every year from 1952 to 1994. Launching 43 single casks from the same distillery at the same time, is we believe, a first. Being a small company everyone at the distillery has been involved in this exciting project. This unique collection of Glenfarclas expressions has been very well received. In his Whisky Bible 2008, Jim Murray has named The Family Casks, the 'Best New Scotch
Whisky of the Year (multiple casks)' of 2007.
Bottles from the collection are now available from specialist retailers in Europe, Asia and Canada . If you would prefer to sample the collection by the dram visit Bar Nemo in Tokyo , or the Mash Tun in Aberlour, which both have one of every bottle from the collection behind their respective bars. Meanwhile Underbar in Oslo, plan to stock the full range, but for the time being have a selection of 15 bottles, which includes one for each year of birth of their hard working bar staff.
Courtesy of Glenfarclas
12 years old ABV 40%



Colour:

Vibrant straw gold.

Nose: Tempting sherry-sweet malty tones combine with a delicate smokiness, releasing subtle spices. Warming the glass reveals honey, vanilla and pear drops.

Flavour: Delicately light, with a mouth-watering combination of maltiness, smokiness and sherry sweetness. Hints of dried fruit, vanilla, cinnamon and cloves tempt the taste buds further.

Finish: Long, smooth and spicy, with a delicious, yet delicate, lingering smokiness.

Comment: Gloriously smooth, yet with the depth and finish you would normally only expect of a much older dram. A Wonderfuly sherried


12 years old ABV 43%



Colour:

Vibrant amber gold.

Nose: Fresh and beautifully light, sherried fruit combined with a tempting spicy sweetness and a hit of sappy oak.

Flavour: Full-bodied, delightful sherried fruit, with oak, a hint of peat and delicious sweet sensations.

Finish: Long and flavoursome, with a lingering spiciness.

Comment: In 2006, this was named teh 'Best Sherried Whisky' in the Single Malt World Cup.


ABV 43%



Colour:

Rich amber.

Nose: Complex, with distinctive butterscotch, sherried fruit and peat smoke aromas.

Flavour: Big, full-flavoured, with excellent balance, develops slowly, full of sherry sweet malty tones, and a touch peat smoke.

Finish: Long lasting and smooth, with a hint of spice and sherry sweetness.


ABV 43%



Colour:

Dark amber-gold.

Nose: Intense, full of aromas - sherried fruit, tropical fruit, nutmeg and almonds with slight citrus notes at the end, all held together with a vanilla sweet smokiness.

Flavour: Full-bodied rich and rounded develops into fruity, smoky and spicy flavours.

Finish: Long-lasting, smooth and smoky with a chocolate feel at the back of your throat.

Comment: An incredibly rounded whisky that leaves you refreshed and contented. A whisky that always deserves a second glass.

ABV 43%



Colour:

Amber with dark gold highlights.

Nose: Complex, yet refined, delicately peated, with tempting aromas of marmalade, honey, freshly ground coffee, sherry and nuts. Some oaky tannins.

Flavour: Full-bodied and robust, the sherry and the oak fight for your attention, yet either is overpowering. A powerful, nutty smokiness.

Finish: Intense, long lasting, dry, smoky and malty. A beautiful dark Belgium chocolate taste at the back of your mouth to complete the flavour of the 25 Year Old.

Comment: A great, after-dinner whisky so rich and full that it is dessert in itself, with a finish that goes on forever.


ABV 60%



Colour:

Deep peaty-gold.

Nose: Complex, oaky, apples and pears and a tempting dark toffee sweetness.

Flavour: Dry and assertive, develops quickly to reveal a rich spiciness, combined with a hint of oak and sherried fruit.

Finish: Amazingly smooth for the strenght; wonderful warming with a lingering smokiness, yet very rounded.

Comment: A great whisky holding all the flavours of all the Glenfarlas in one glass. Being so warming, this is the perfect Hogmanay dram.
GlenfarclasWhisky Distillery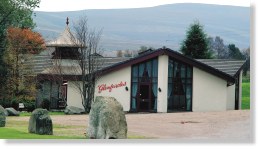 Situated in the heart of Speyside – malt whisky country – Glenfarclas, translated from the Gaelic as "Glen of the green grassland", nestles at the foot of the Ben Rinnes mountain. The Glenfarclas Distillery Visitor Centre, which opened in 1973, is one of the original distillery visitor centres. In addition to the regular tour, which includes a dram of Glenfarclas 10 years old, in-depth tutored nosing and tastings are offered by prior appointment.

A warm welcome awaits you at the Glenfarclas Distillery Visitors Centre, and we look forward to welcoming you to the home of Glenfarclas single malt very soon. Enjoy a guided tour, see the largest stills on Speyside, relax with a dram in the splendour of the Ships Room, plan out your holiday in Speyside, chat with our friendly staff, or simply browse in the gift shop.

Not forgetting the large selection of Glenfarclas Single Malt Scotch Whisky on offer, including miniatures, and the highly collectable Millennium 40 years old. "Whatever you choose to do, let us share the Spirit of Independence with you."

Glenfarclas Distillery is 5 miles south of Aberlour on the A95 Grantown-on-Spey road.

Visit the Glenfarclas Distillery

"We invite you to visit our truly independent distillery and discover our renowned Single Highland Malt Scotch Whisky" John L. S. Grant

Distillery Tour
Glenfarclas was one of the first distilleries in Scotland to open a dedicated visitor centre in 1973. Thirty years later we still pride ourselves on the warmth or our welcome. Take a tour of the distillery with one of our knowledgeable guides and discover not only the magic of malt whisky production, but the unique aspects of Family owned Glenfarclas. After your tour relax with a dram in the splendour of the Ship's Room and browse in our distillery shop with its large selection of Glenfarclas Single Highland Malt Scotch Whisky and Glenfarclas gifts. A selection of gifts from the visitor centre shop are now available to purchase at our on-line shop.

The Visitors Centre is open all year:

April to June
Monday to Friday 10AM to 5PM

July to September
Monday to Friday 10AM to 5PM
Saturday 10AM to 4PM

October to March
Monday to Friday 10AM to 4PM

The last tour leaves 90 minutes before the stated closing times.

Admission £3.50
Groups welcome by appointment.
For further information, please call 01807 500345.

Ambassador's Tour & Tasting
2PM on Fridays in July and August 2010

Enjoy a tour of Family owned Glenfarclas, after which one of the Glenfarclas Brand Ambassadors will introduce you to a selection of four of their favourite expressions of Glenfarclas. £15 per person.

To book please call +44 (0) 1807 500345 or send an email here.

From the Grain to the Glass
To produce Glenfarclas Single Highland Malt Scotch Whisky, these three essential ingredients are required: pure spring water, malted barley, and yeast. These finest ingredients, combined with the unique size and shape of the copper pot stills, traditional distillation methods, the specially selected oak casks, and the style and location of the warehouses, are all important factors determining the final unique character of Glenfarclas.

The heather clad slopes of the 814 metre high Ben Rinnes mountain, purple in autumn and snow clad in winter, rise up majestically behind the distillery. The melting snows of winter seep down through the peat, deep into the granite below, rising up as pure, crystal clear spring water, soft and slightly acidic, ideal for making whisky. The water in Speyside is exceptional for producing malt whisky, and over half the distilleries in Scotland are located in this region.

Since 1972, specialist 'maltsters', companies who specialise in malting barley, produce the malt to our required specification. The Pagoda roof, from the old kiln, now takes pride of place over the entrance to the Visitors Centre. The barley is usually grown in Scotland, and often in the local area of Moray; prime barley growing country.

MALTING. (Steeping, Germination and Kilning)

Newly harvested barley, with a moisture content of 11 - 12%, is steeped (soaked) in water and germinated to start a complex chemical reaction, which is then gradually halted by increasing the temperature during kilning. The barley used to produce the distillers' malt is Hordeum distichon, with varieties such as Chariot and Optic popular for their low nitrogen content (below 1.6) and a 98% germination rate.

Steeping. (Soaking)
Steeping the barley is probably the most important part of the malting process. If it is performed effectively then the next two stages, germination and kilning, are routine. The objective of steeping is to achieve a moisture content of 46% with a strong uniform growth. Steeped in a saladin box (steeping, germination and kilning vessel) at 16 deg. C.

Courtesy of Glenfarclas