Glenmorangie Distillery
Tain Ross-shire IV19 1PZ Scotland
Tel: +44 (0) 1862 892 477 / Fax: +44 (0) 1862 894 371
Viewer's Comments about Glenmorangie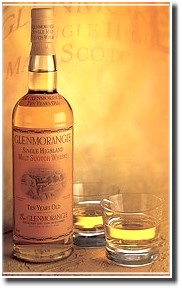 Since 1843, Glenmorangie distillery has been producing its famous malt here on the shores of the Dornoch Firth. Though the complex of buildings has seen many changes over the years, Glenmorangie is still handcrafted to this day by the Sixteen Men of Tain using tried and tested methods that have been passed down from generation to generation.
The earliest documented reference to distillation on this site was in 1703, in the 'Tain and Balnagown Documents', and in the 1730s a brewery was established on the site. Tain's first legal distillery was established by David Sutherland in the early 1820s on a site at the west end of the town. On the 23rd June, 1826, the Inverness Journal advertised his property for sale, describing it as 'small but commodious'. Unfortunately for Sutherland, he failed to find a buyer, and although he was re-licensed for 1827, it appears he went out of business soon after.

The Glenmorangie Distillery was licensed in 1843, and rather than buy brand new stills, the Distillery manager found second-hand swan necked stills that had been used in a gin distillery. These, he decided, would do just fine. This is why our stills have narrow, arching swan necks individually hand beaten into shape by skilled coppersmiths. They are exactly 5.14 metres tall (or for traditionalists, 16 feet 10¼ inches): the tallest stills in Scotland.
The year 1887 saw the final establishment of the Distillery as a limited company by the Maitland brothers, who ran the architects' practice in Tain. Their partner was Duncan Cameron, the manager of the Commercial Bank. Soon, Glenmorangie was exported all over the world; mainly to expatriate Ross-shire folk in the Colonies, but also to fine hotels and businesses in Europe and the United States. One prestigious customer was the Savoy Hotel in London!

In 1915, the Argyll and Sutherland Highlanders were billeted at the Distillery, with the maltbarns converted into makeshift barracks for the duration of the summer. This arrangement continued each summer for the remainder of the Great War. The barns were ideal for barracks, having plenty of free floor space and, of course, the Tarlogie Springs providing an ample supply of water.
Before the Great War ended Glenmorangie had passed out of local ownership, and was bought over by its largest single customer, the Leith based company Macdonald and Muir. By the beginning of the 1920s, the rigours of wartime production had passed and the Distillery was running again with its full complement of Sixteen Men.

Securing a water supply had always been a problem at the Distillery: the Tarlogie Springs belonged to the local Laird, who leased the right to draw water from the springs to the Distillery company. However, the land surrounding the spring could be used by the Laird for any purpose - a situation which could have jeopardised the quality or quantity of the water. In the 1980s, there was a threat of building development near the springs, so Macdonald and Muir made sure that the water would be safe by buying 650 acres of the land surrounding the Tarlogie Springs.

In the 1990s additional stills were added to the still house to keep up with worldwide demand for Glenmorangie Single Malt. Then, in 2002, we introduced two more fermentation vessels (washbacks) as demand continued to increase.
Although we make more malt whisky than we used to, the Distillery continues to maintain the tradition of only employing Sixteen Men, who work around the clock, all year round, only stopping each year for

Christmas and essential maintenance. By only ever employing Sixteen Men we ensure that our distillery remains one of the most traditional in the Highlands.

Glenmorangie Single Highland Malt Whisky is famous for its complexity and few whiskies can boast such a range of subtle notes and flavours.
Courtesy of Glenmorangie
Nose:

The first impression is of dark chocolate coated sun-dried raisins, smothered in treacle with a sprinkling of demerara sugar. Further aromas emerge as a delicious and heady mix of hot chocolate and rich aromatic coffee, with a spoonful of honey and a bowlful of toasted almonds. Burnt caramel, liquorice root and vanilla are discovered within the coffee/chocolate mix.

The addition of water releases a symphony of luscious fruity, sweet and warming aromatics: the scent of red cherries emerges from a rich fruitcake, alongside syrupy prunes, sun-burnt raisins and sweet flowering currants. Beneath the deep dried fruits, syrupy honey, Seville orange marmalade and figs bring a dessert-like sweetness. Hints of cocoa, toast and leather brings a simmering warmth.

Taste:

Full-flavoured and mouth-filling, the mouthfeel is an amazing balance of luscious syrupy, chewy and toasty mouth-warming effects.

The initial sip begins sweet and fruity with the flavour of tangy cake mix and orange peel. This progresses into a thick and syrupy middle revealing honey and syrup pudding. Then, prunes and plump raisins meld with treacle and toasted almonds. Liquorice root and walnut oil bring an unctuous depth and length.

Finish: Long and rich to the end with treacle toffee, sun-dried raisins and syrupy prunes.

ABV: 46% & Non Chill-filtered. Colour: Deepest sunset gold

Tasting Notes Courtesy of Glenmorangie

Aroma:

The gentle aroma of lemon blossom melds with warm, clear honey. A waft of soft pine resin, released by the heat of the sun, carries the tang of sea-salt beyond. Glenmorangie ASTAR lives up to its name. Meaning 'journey' in Gaelic, the initial destination is the rustic charms of Provence on the Mediterranean coast, with its fields of roses and wild mint. Next, Provence meets the sophistication of the Cote D'Azur. Here we discover the crisp and creamy juxtapostion of burnt sugar-topped crème brulee with the snap of toasted almonds enrobed in vanilla milk chocolate. The aromatic complexity of cinnamon and aniseed are a reminder of the influence of Africa, almost visible on the horizon, just across the sea.

Travel further by adding water, to the tropics – where the cool creaminess of pina colada melts into soft poached peaches and pears, served with vanilla ice cream. Overlaying this is the signature scent of the Spice Islands – cinnamon, nutmeg, ginger – all dripping with golden syrup.

Taste: The sweetness and warmth of honey drizzled over the tongue, with the crispy-creamy texture and flavour of crème brulee feels light and almost foam-like on the tongue. A fresh, fruity burst of pineapple is softened by apricots and poached pears smothered in crème anglaise. The richness of buttery fudge emerges, with the dense, oily flavour of hazelnuts. Spices warm the tongue – cinnamon and nutmeg – balanced by the lemony sweetness of a crisp nectarine. Then, like an intake of fresh mountain air, the palate is cooled by fresh mint.

Finish: A lingering honeyed sweetness, with the impression of sugar-sprinkled almond biscuits, creamy coconut ice and the faintest trace of aniseed.

ABV: 57.1% non chill-filtered. Colour: Sunlit gold

These Taste Notes were crafted by Anna-Marie Solowij, Former Beauty and Health Director, UK Vogue and twice-winner of the Jasmine Award for Fragrance Writing.

Glenmorangie Quinta Ruban is a velvety-textured single malt whisky, for confident, colourful, dynamic luxury spirit drinkers who like to take the lead.

A mature Glenmorangie that is transferred from the original ex-bourbon cask and then extra matured or 'finished' in port pipes, shipped from the 'Quintas' or wine estates of Portugal. Maturation in ruby port pipes develops The Quinta Ruban into a voluptuously smooth spirit with a complex balance of sweet and dry flavours that engage the entire palate and envelope it in a intriguing balance of smooth velvet and crisp, cooling textures.

The beautiful ruby colour is derived from the ruby port pipes that are used for maturation, and the intensity of this hue is untouched by the non chill-filtering process. 'Ruban' in Gaelic for Ruby.

With an ABV of 46%, its dominant tastes are rich, chocolaty and minty.

It has been called 'the perfect ten' and most Glenmorangie drinkers will readily drink to that! After 10 years in ex-Bourbon casks, the Glenmorangie spirit has had enough time to mature and mellow into a beautifully balanced yet marvellously complex malt whisky.



ABV

40.0% Volume 70cl



Colour:

Pale golden brown.



Aroma:

Light and delicate, floral with traces of citrus and vanilla, with a light smokiness, too.



Taste:

Beautifully balanced, with honeyed nuts coming through.



Aftertaste:

Clean and salving, short.

GLENMORANGIE 18 YEAR OLD SINGLE MALT SCOTCH WHISKY

Colour: An attractive deep gold colour, warm and enticing. Distinctive from the Ten Year Old, but without the heavy darkness of some extra aged malts.

Aroma: The bouquet is very full, round and perfumed with nutty, caramel and vanilla overtones.

Taste: Exceptionally smooth, 'silky' and round. Fine, fully flavoured and subtle.

Aftertaste: With a long, consistent aftertaste, it is delivered with great intensity and depth.

Comments: The changes that take place during the extra eight years of maturation are profound. A superb after dinner dram.

GLENMORANGIE NECTAR D'OR SINGLE MALT SCOTCH WHISKY

A captivating single malt whisky for the sophisticated luxury spirits drinker who enjoys delicious extravagance and sensual pleasures.

With a tremendous 'gourmand' appeal, The Nectar D'OR is Glenmorangie's delicious, complex base spirit, that after a minimum of 10 years in ex-bourbon casks, is then extra matured in specialty hand selected Sauternes wine barriques. This makes it rich and sumptuous with a heady, luscious, beguiling spectrum of aromatic patisserie desserts that helps create a memorable occasion whenever it is enjoyed.

'Or" means gold in both Gaelic and French while of course 'Nectar' is the drink of the Gods.

Non chill-filtered and with an ABV of 46%, its key flavour notes are lemony, sumptuous and syrupy.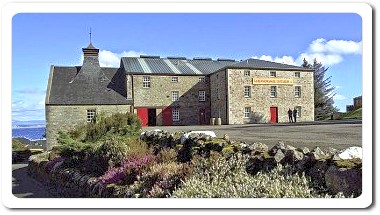 Each year, we're lucky to welcome visitors from all over the world who come to discover how their favourite malt whisky is made and meet the people who share their passion for Glenmorangie and live and breathe it every working day.

VISIT THE GLEN OF TRANQUILLITY

If you'd like to take a look around the Glenmorangie Distillery, why not come and visit us here in Tain?
Open All Year
Monday to Friday 09.00 - 17.00
June - August: Saturdays 10.00 - 16.00
Sundays: 12.00 - 16.00

Tour Frequency
10.30 - 15.30 Monday to Friday
10.30 - 14.30 on Saturdays
12.30 - 14.30 on Sundays.
Maximum 15 per group.

Please note that the Distillery will be closed during the Christmas holiday period and tours may be restricted during the Silent Season.

Admission
There is a £2.50 admission charge - which is redeemable against any purchase of £16 or more from the shop.

Groups
Groups are welcome to a guided tour of the Distillery.

Reservations
Pre-booking is advisable.

Location
The Glenmorangie Distillery is about 1 hour (36 miles) north of Inverness . Once you reach Tain, don't turn off into the town but keep on the A9 for about half a mile north of Tain where you'll see the Distillery signposted to your right.
Contact Us
If there's anything that you'd like to ask us about (or you just want to tell us how good Glenmorangie is!) feel free to contact us at any time. Here are all the details you'll need.

The Glenmorangie Distillery Visitor Centre & Shop
Glenmorangie Distillery
Tain Ross-shire
IV19 1PZ Scotland
Tel: +44 (0) 1862 892 477
Fax: +44 (0) 1862 894 371
Email: Glenmorangie Distillery
Courtesy of Glenmorangie