Inverleven Single Malt Scotch Whisky
Glasgow Road, Dumbarton
Dumbartonshire, Scotland
Viewer's Comments about Inverleven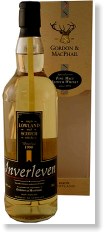 The Inverleven Distillery was founded in 1938 by Hiram Walker & Sons Ltd. It was a small malt distillery which was built within the huge Dumbarton grain distillery complex. Known as the home base for Ballantine's, production was used for their blends. The two pot-still houses were designed to produce two these different malt whiskies - Inverleven and Lomond - while using the same equipment. While neither of the two malts were bottled by the distillery owners, independent bottlings are available.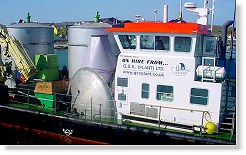 Inverleven Machinery on Barge
Inverleven was mothballed in 1991 and Dumbarton was closed in 2002. Since Inverleven was to be demolished in 2003, the Bruichladdich team decided to make use of the the entire plant. Bruichladdich was planning to revive the former Lochindaal distillery in Port Charlotte and thought it would be a great idea to use Inverleven's machinery at Inverleven. The entire plant was dismantled and shipped to the island of Islay on barges. So the spirit of Inverlven continues in Islay.

Inverleven's house style as descibed by Michael Jackson: "Perfumy, fruity, oily. With a summer salad when young; with nuts at Christmas when older."