Loch Lomond Single Malt Scotch Whisky
Lomond Estate, Alexandria
G83 0TL Scotland
Tel: +44 (0)1389 752781 / Fax: +44 (0)1389 757977
Viewer's Comments about Loch Lomond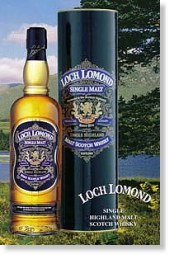 The Loch Lomond Distillery was founded by the Littlemill Distillery Company in 1965. It was closed in 1984 but then reopened by Glen Catrine Bonded Warehouse Company Ltd (owned by the Bulloch family) in 1987. The Bulloch family can trace its interest in the Scotch Whisky trade back to 1842 when Gabriel Bulloch partnered with J H Dewar in a Scotch wholesaling business in Glasgow. The family's involvement in the whisky business continued until the late 1940s when, due to the untimely early death of their father, Sandy and his sister Irene were required to join their mother to help with the operation of the single shop that the family owned in Glasgow. They used to (as was the practice then) buy barrels of Scotch whisky, brandy & rum and bottle it in their shop cellar. Shortly thereafter Sandy bought his first 'fillings' (new or immature whisky) and that's where our story really started.
The Bulloch family built up a substantial chain of retail outlets in Scotland (A. Bulloch & Co.). In order to supply these, a wholesale company was acquired (Wm. Morton Ltd.), and although its primary function was to supply A. Bulloch & Co, its business gradually grew and it is now one of the largest independent wholesalers of wines, spirits and beers in Scotland.
A. Bulloch & Co. continued to sell their own label whisky, gin and vodka, which became an increasingly important sector. Subsequently it became prudent to set up our own bottling plant (Glen Catrine Bonded Warehouse Company Ltd.), which again (although its primary function was to supply the retail outlets) has grown into one of the largest independent bottlers of spirits in Scotland.
By 1985, we were a significant independent force within the whisky trade, but we were finding it increasingly difficult to obtain the stocks of Scotch whisky that were required in order to ensure the continued growth of Glen Catrine. In an attempt to help this situation, in 1985 we purchased a malt distillery, Loch Lomond Distillery Co. Ltd. Although this helped, in the following years we were faced with the difficulty of securing an adequate supply of Grain whisky. So, in 1993 it was decided to add a set of grain stills to the distillery.
There were eventually more than 25 shops throughout Scotland, but these have now all been sold and we concentrate on our strengths - producing, bottling and distributing alcohol, (principally Scotch whisky).

Loch Lomond Single Malt Scotch Whisky is presented in an exquisite packaging - from the embossed bottle to the stunning blue labels - it is matched by the whisky within, which has a mellow, slightly peaty nose, with a hint of brandy butter. The taste on the palette is sweet, smokey, with hints of finest Madeira wine and has a long, mellow finish, with echoes of a raisiny Xmas pudding.
All of the Loch Lomond range of whiskies are double-matured to ensure a perfect marriage of the spirit before bottling. Launched in the German market in 1999 this malt has enjoyed spectacular success and is now the third best selling malt in Germany according to Nielson.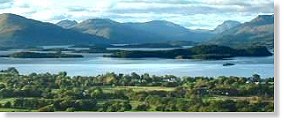 Loch Lomond
Loch Lomond Single Blend Whisky - Have you ever heard of a 'single blend whisky'? Well, at the Loch Lomond Distillery we also produce the Loch Lomond Single Blend whisky. This is a unique product, not found elsewhere. We are the only single distillery to produce both grain whiskies and a number of different malt whiskies on the same site, albeit that the stills are in different buildings. This allows us to use the word "single" in relation to our Loch Lomond Single Blend.
Courtesy of Loch Lomond Distillery