Millburn Single Malt Scotch Whisky
Site of Former Millburn Distillery
Millburn Road, Inverness
Highland, IV2 3QX, Scotland
Viewer's Comments about Millburn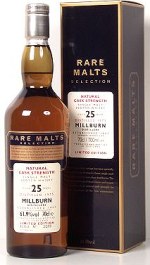 Millburn was the first of three whisky distilleries in Inverness. Reportedly established by Mr. Welsh in 1807, there were no official records until 1825 when at that time it became one of the first distilleries in Scotland to be licensed (to Rose & McDonald). Originally known as Inverness Distillery, it struggled in the beginning due to the amount of illicit distilling.

In 1853 the distillery was converted into a corn mill and operated by local corn merchant David Rose. His son George then converted it back into a distillery between 1876 and 1878 and renamed it Millburn. In 1892 the distillery was acquired by Haig & Co. and then sold to the London gin company, Booth's in 1921. The following year, it was severly damaged by fire, however, the warehouse of maturing stock and the stillhouse were saved by the Queen's own Cameron Highlanders from the adjacent barracks. Millburn was rebuilt. In 1937 it became under the ownerhip of DCL (Distillers Company Ltd.) and then transferred to Scottish Malt Distillers Ltd. (SMD) in 1943.

DCL mothballed Millburn in 1985 and then sold it to the Beefeater restaurant chain in 1990. Today, it is known as The Auld Distillery - a stylish and modern restaurant and hotel.
There were not many single malts released from Millburn, however, in the 1990s, there were interesting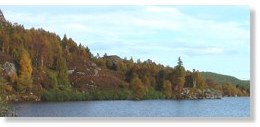 Loch Duntelchaig
Rare Malt versions as well as some independent bottlings. Production from the distillery was a important contributor to the vatted malt Mill Burn. Millburn's house style has been said to be full and occasionally smoky and it has also been described as having a smooth body, aromatic nose and sometimes a little peaty.
Millburn was the first distillery built in Inverness and the last to close. The other two distilleries,
Glen Albyn
and
Glen Mhor
were torn down to make way for shops.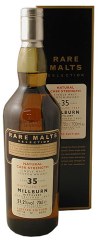 MILLBURN 1969 RARE MALT NATURAL CASK STRENGTH
Description: Full, burnished gold in colour. Oily and smooth bodied. A wholly satisfying, reflective dram. Tremendous character, fully mature yet supple... like well-polished leather. Characteristically peppery, but without the sweet smokiness of some vintages.
Nose: Peppery, heavy and oily, with scents of chewy Highland Toffee. Some dried fruits; rum and raisin ice cream, old Spanish brandy. With water, the oiliness grows whilst the fruitiness becomes a heavy perfume, like that of lilies at night. Further development brings nougat and warm creamy milk, with nuts.

Palate: Delicious at natural strength, even better with a little water. A big, thick mouth-feel - sweet then drying elegantly; sweet peppers followed by a hint of matchbox striker. Traces of clove and herbal notes too, of parsley and sorrel. Slightly mouth-cooling.
Finish: Dry. Cooling. Herbal
Distiller's Tasting Notes
This full gold Highland malt's characteristic peppery aroma introduces a big, satisfying, mature yet supple dram with rich, sweet flavours and a spicy drying finish.
Tasting Notes by Diageo
Millburn Whisky Distillery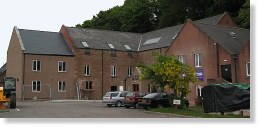 The Millburn Distillery was situated on the eastern side of Inverness on the banks of the Mill Burn. Its was source was from the Loch Duntelchaig. Alfred Bernard described the distillery, in his 1887 tour, as "The distillery is about 1 mile from the town on the old Roman Road, that leads to Fort George, and it is situated under the brow of a steep hill, which faces the sea. It has a very handsome appearance and is built principally of stone. The open cooperage, generally an unsightly building is here beautifully with enclosed trellis work, painted a rich green."

In 1985 the distillery was mothballed and then sold to the Beefeater restaurant chain in 1990.