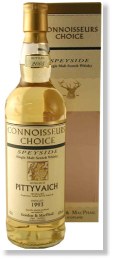 The Pittyvaich Distillery was founded by Arthur Bell & Sons (now a subsidiary of Diageo) in 1975. It was the last distillery built in the Malt Whisky Capital of the World, otherwise known as Dufftown. The distillery is situated in the Dullan Glen on the outskirts of Dufftown and near the historic Mortlach Church which dates back to the sixth century. It is also located next to sister distillery
Dufftown
.
Pittyvaich and Dufftown worked in conjunction to produce a malt whisky which was used mainly for blends - in particular - for
Bell's
blends which is famed for its distinctive character and taste. To achieve this, according to Bell's, the brand draws its inherent qualities from several of Scotland's finest distilleries, each with its own extra special appeal.
At one time in the early 1990s, Pittyvaich Distillery was utilized briefly for a trial production of gin - in particular, Gordon's Gin. At this time, the neutral spirit for Gordon's was produced at Cameronbridge Distillery in Fife and was then transported to London to their gin pot still. This process was not practical nor cost effective, therefore, an experiment was tried at Pittyvaich to see if a quality gin could be produced in Scotland.
The distillery's spirit and wash stills were modified to accomodate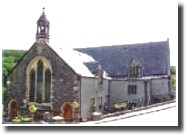 The Historic Mortlach Church
the production of gin and as it turned out, no one could tell the difference between the 'real' Gordon's and the one produced at Pittyvaich. As a result of this successful experiment, Gordon's Gin is now wholly produced in produced in Cameronbridge.
In 1991, the first official bottling was released by Diageo under the Flora and Fauna range. Pittyvaich brings to the discerning connoisseur a single malt of perfumed, fruity nose and robust flavour with a hint of spiciness.
The Pittyvaich Distillery was mothballed in 1993 and demolished in 2003.