Tobermory, Isle of Mull,
PA75 6NR Scotland
Tel: +44 (0)1688 302645
Viewer's Comments about Tobermory / Ledaig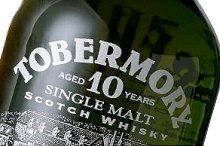 The Tobermory Distillery originated as a brewery and was founded in 1798 by John Sinclair. Its location on the picturesque Isle of Mull is in the harbour village of Tobermory - a charming seaside fishing area. In 1823, the brewery was converted into a distillery. Both the distillery and village were initially known as 'Ledaig (pronounced Led-chig). The name translates from the Gaelic tongue and translates to 'Safe Haven' - aptly named after the area on which the distillery sits, neatly sheltered in Tobermory Bay. Tobermory is derived from the Gaelic "Tobar Mhoire", which means 'Well of Mary' and refers to the well and chapel of St. Mary.

The Isle of Mull - simply referred to as Mull - is on the west coast of Scotland and is regarded as one of the most beautiful of the Hebrides.

Throughout Tobermory's history, it has had several different owners and has gone through long periods of inactivity. In 1878 after 41 years of silence, the distillery was purchased by John Hopkins & Company. In 1916, Distillers Company Limited (DCL) acquired the company and in 1930, production had come to a halt. The Ledaig Distillery Limited bought Tobermory in 1972 and then three years later went into receivership. The business was then acquired in 1978 by the Kirkleavington Property Co. of Cleckheaton. Production resumed in 1979, but then fell silent again in 1985 and resumed again in 1989.

In 1993, Tobermory was purchased by Burn Stewart Distillers Ltd - a fully integrated Scotch whisky producer and brand owner with three single malt whisky distilleries and a strong portfolio of Scotch whisky brands. Burn Stewart is Tobermory's present day owner.

Of all the whisky distilling regions of Scotland (Speyside, Highland, Islay, the various Islands, Lowland, Campbeltown), only Tobermory and Ledaig represent an opportunity to experience malt whisky from this particular region. Tobermory, which is distilled from unpeated malted barley and allowed to mature in oak casks for a minimum of 10 years, is light amber in colour, with a fresh, lightly peated smoky nose. The palate is medium-dry, smooth and fruity, with a rich and well-rounded finish. Many Island and Islay malts tend to be heavily peated. Tobermory, however, is only lightly peated, drawing its overtones only from the water on the Island. This makes it particularly easy to drink, and is why it serves as the perfect introduction to Island Malt Scotch Whiskies.

Ledaig, unlike Tobermory, is distilled from heavily peated malted barley. During the malting process, burning peat is used to dry the barley in a kiln. The reek from the burning peat is absorbed by the barley through the husk of the grain, and the reek remains through the mashing, fermentation and distillation processes, eventually leading to a superior single malt with a highly distinctive peaty, smoky taste. That malt is Ledaig, a superb, intricate Island malt Scotch whisky.

In February of 1998, the highly regarded American spirits magazine Wine Spectator featured the results of a "blind" tasting during which 39 of the most popular and established single malt Scotch whiskies were compared. Of the 39 malts tasted, 5 were deemed to be so good that they merited Classic status, while the rest were divided into the categories "Outstanding", "Very Good" and "Others". Both malts from the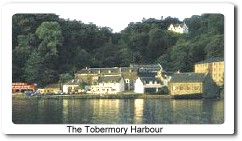 Tobermory Distillery, Tobermory and Ledaig, were awarded "Classic" status, with the following judges comments:
Tobermory: "Spicy and exciting. A malt with hay, salt and butter and hints of earth and wood. Concentrated and full of flavour. Superlong aftertaste. Got to love this."

Ledaig: "Beautifully balanced and poised. From Tobermory. Lovely, fresh aromas of honey, cereal, peat and hay. Summery and beautiful. Medium to full-bodied, with gorgeous floral flavours. Dry finish."