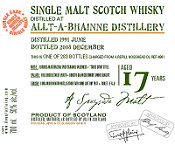 Nose:
Carries an attractive spicy caramel sweetness - "Tarte Tatin" style.
Palate:
Full bodied, sweet (peat?) Runs to balanced smoky/tannic quality.
Finish:
Long and rich with nuts, leather even some late dry peat + tablet (F&J)
Comments:
Distilleed in June of 1991 - bottled Decmber of 2008.
Tasting notes by Douglas Laing, Inc.