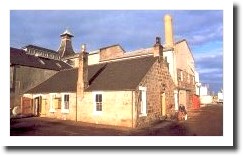 Knockdhu distillery is situated in the Highlands of Scotland, on the very edge of the Speyside region in a small village called Knock. The distillery itself was founded in 1894 after the discovery of several springs were discovered on the nearby Knock hill. The knock hill is known to locals as anCnoc, this comes from the Gaelic black hill. Transformed by the weather, the heathers and other vegetation appear black due to the natural shadows on the hill.
When the distillery was opened in 1894 is was seen as a showpiece with its two pot stills turning out 2,500 gallons of spirit per week. The pot stills are made to the same design today, producing the unique spirit that was produced over 100 years ago. In 1988 Knockdhu became the first distillery that Inver House Distillers purchased, thus becoming the dawn of
a new era for the company.

As with other distilleries within the Inver House Distillers group the methods of producing the whisky have changed very little since production began all those years ago. A traditional cast iron mash tun is used in the mashing process although not as efficient as its modern counterparts it is similar to what was first used.
Wooden washbacks made from Douglas fir are preferred to modern stainless steel, again these are less efficient, but are reflected in the character of the finished Scotch Whisky product. There are six in total each fermenting batch sizes of 21500 litres.
Importantly, the worm tub has not been replaced by a modern condenser. The worm tub at Knockdhu is 100 meters of copper coil in a water filled vat. The importance of worm tubs is that they preserve the sulphur compounds. The sulphur compounds then react with the char layer on the casks and this is what gives anCnoc its depth, body and butterscotch armona.
The barrels at Knockdhu come to rest in traditional dunnage warehouses. The thick walls, made from local granite, ensure a stable temperature.

Visiting Knockdhu Distillery: Visits to the Knockdhu Distillery are by appointment only and can be arranged by calling the Distillery direct on: +44 (0) 1466 771 223 .
Directions from Glasgow / Glasgow Airport: Approximate travel time: 4.5 Hours
From Glasgow Airport, join M8 (Signposted for Edinburgh & Glasgow)
Follow M8 (Signposted Edinburgh & Stirling) for 11 miles, then join the M80
Follow M80/A80/M80 (Signposted for Stirling) for 22 miles then continue on to the M9
Follow M9 for 6 miles
At roundabout take the 2nd exit onto the A9 (Signposted for Perth), follow A9 for 26 miles
At Broxden Roundabout take the 3rd exit onto the M90
Branch left at junction 10, then continue forward on the M90 (Signposted Dundee, Forfar & Aberdeen)
Continue onto the A90 and follow this road (Signposted Dundee then Aberdeen & Forfar) for 85 miles
At Haudagain Roundabout take the 1st exit onto the A96 (Signposted for Inverness) and follow this road for 35 miles
Turn right onto the B9022 (Signposted Portsoy), follow this road for approx 8 miles then turn left
Arrive at Knock
Directions from Edinburgh / Edinburgh Airport:
Approximate travel time: 4 Hours

From Edinburgh airport, follow signs for the A90 (Aberdeen, Dundee & Perth)
Join the A90 and continue on this road for 8 miles
Continue forward onto the M90 for 28 miles
Continue onto the A90 and follow this road (Signposted Dundee then Aberdeen & Forfar) for 85 miles
At Haudagain Roundabout take the 1st exit onto the A96 (Signposted for Inverness) and follow this road for 35 miles
Turn right onto the B9022 (Signposted Portsoy), follow this road for approx 8 miles then turn left
Arrive at Knock
SatNav Users:
The distillery can be located by entering the following postcode into your SatNav Device: AB54 7LJ