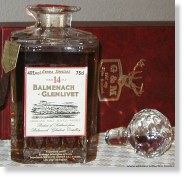 Situated on the River Spey in the very heart of Speyside, the Balmenach distillery was an illicit distillery when it started producing in 1801. Smugglers, bothies and illicit drinking were all prevalent in the area. It is also of interest to mention that this is same area where in 1690 an army of Jacobites were ambushed by Dragoon Guards. As a result, this defeat effectively ended the Jacobite rising in the Highlands. It was not until 1824 that James MacGregor,the original founder and local farmer decided to licence his "peat shed" as a distillery.

The distillery was owned and operated by the McGregor family until it was sold in 1922 to a company that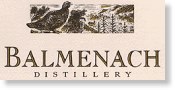 would become Distillers Company Limited (DCL). In 1993, United Distillers & Vinters (UDV) took the decision to mothball Balmenach and the distillery lay silent until 1998 until Inver House Distillers bought it making it the company's fifth and largest distillery. The first distillate of Balmenach for 5 years was then produced in March that year and stored in casks in one of the three dunnage warehouses on the site.