Arthur Bell & Sons Plc
Cherrybank, Perth PH2 0NG Scotland
Viewer's Comments about The Balvenie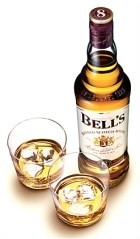 Arthur Bell's career began modestly in 1837 as Company Traveller for a Scottish wine and spirits merchant. He made partner in 1851 and it is clear that he soon realised the tremendous opportunity which blending held. Over the next few years, Bell toured the Highlands, Islands and Lowlands of Scotland to seek out the finest single malt whiskies and only in 1863 did he appoint a London agent for his brands.
The accepted practice at the time was to use young, immature whiskies for blending. Bell, however, was adamant that only mature whiskies be used in the blend - a decision that earned him a reputation not only as a specialist blender, but as a man of vision with the highest regard for quality.
In the early days, Bell refused to put his name on a blend, believing that the quality should speak for itself. After his sons joined the company, they convinced him that branding their product could only be good for business and in 1904 the first label appeared bearing the words "Arthur Bell & Sons Extra Special Old Scotch Whisky, Perth, Established 1825".
It was only in 1925 that "Afore ye go" was registered as the official company slogan. During the First World War, the Bell family would have a few cases of Bell's Extra Special Old Scotch Whisky sent down to the docks to be distributed among the troops going off to the Western Front with the idea being that they should have a wee dram, …"afore ye go". Bell's Extra Special Blended Scotch Whisky is the UK's most popular blend.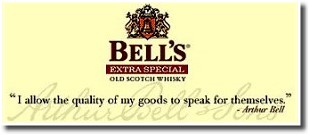 The secret behind the Bell´s blend lies in its undeniable quality and it is the task of the Bell´s Master Blender to ensure that this legacy remains unchanged, year after year. Bell´s unique character is derived from 35 different malt and grain whiskies, each matured between 5 and 12 years. When blending, the Master Blender has in mind the contribution made to the palate by each blending whisky, and so ensures the correct balance and consistency every time
Courtesy of Bell's Whisky
Bell's Original is a whisky blend and is made from blending various malt and grain whiskies, specially selected to ensure consistent flavour in the blend.

The key malt whisky comes from Blair Athol distillery, which stands at the gateway to the Scottish Highlands in the picturesque town of Pitlochry.

Bell's Original is fresh, fruity with hint of smoke to nose - fresh fruit and spicy balance, mellow with lingering pronounced smoke backtaste.




Bell's Special Reserve is a blend of specially selected pure malts, all of which are more than 8 years old. Bell's Special Reserve whisky has a tempered smokiness finishing with warm pepper mellowed by a rich honey complexity.

Tasting notes written written by
Caroline Martin, Master Blender. Courtesy of Diageo

Tasting Notes by Jim Murray

The Bell's blend is famed for its distinctive character and taste. To achieve this, Bell's draws its inherent qualities several of Scotland's finest distilleries, each with its own extra special appeal.

All Scotch whisky is matured for at least three years, but in the case of Bell's, every drop is aged for eight years or even longer. Over time, in the traditional oak cask, something miraculous happens; and after drawing out the complex, delicious flavours of the wood, the whisky emerges mellow, rich, full flavoured and altogether finer. Because the oak cask has previously held either sherry or bourbon, those extra flavours seep in too, helping to round out the character.

Blair Athol Distillery Pitlochry, Highland
Established in 1798 in the picturesque town of Pitlochry, Blair Athol is one of the oldest working distilleries in Scotland. This renowned distillery stands on peaty moorland in the Highland resort and offers a malt of mellow, deep-toned aroma with a strong fruity flavour and smooth finish. Dundee cake, in a nutshell. The key, signature malt is made at Blair Athol.



Caol Ila Distillery lslay
Fresh with a salty tang, as you might expect from a distillery that is buffered constantly by the sea on the north east coast of Islay. A whiff of smoke in the sweet, lingering aftertaste. The distillery was built in 1846. On a clear day, it's possible to see Ireland, which is about 15 miles to the south west. Caol Ila is Gaelic for the "Sound of Islay" which the distillery overlooks.



Dufftown Distillery Speyside
The old stone buildings of this distillery stand proudly beside the Dullan River. From inside its walls comes a single Highland Malt Whisky with a delicate, fragrant, almost flowery aroma and taste which lingers on the palate. Sweet and sour. Bells bought this distillery from 1933 and United Distillers purhcased the site in 1985.

Glenkinchie Distillery Lowland


From the 'Garden of Scotland', a forest walk of a malt, with fresh green grass giving way to spicy wood and late summer fruits. Soft spring grass. Because of the distillery's closeness to Scotland's capital city, the distillery is a famed stopping point on the tourist trail – and the proud producer of what is commonly known as 'The Edinburgh Malt' – the pale, dry aperitif of choice for polite society.

Inchgower Distillery Speyside


It was purchased by Buckie Town Council in 1936 for just 1000 pounds, before Arthur Bell recognised its potential a mere two years later and snapped it up for 4000 pounds. Standing close to the sea on the mouth of the River Spey, Inchgower offers a malt of complex aroma and fruity, spicy taste with a hint of salt.
Courtesy of Bell's Whisky