BenRiach Single Malt Scotch Whisky
The BenRiach Distillery Company Ltd, The BenRiach Suite
Glenbervie Business Centre, Glenbervie Business Park
Larbert FK5 4RB Scotland
TEL: +44 (0) 1324 682220 / FAX: +44 (0) 1324 682224
Viewer's Comments about BenRiach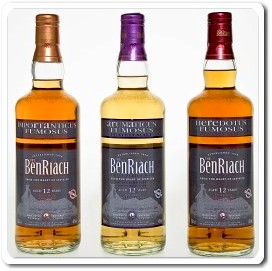 The Spey Valley, in which the BenRiach distillery was built in 1898, is home to many of Scotland's great whiskies, but the BenRiach has its own uniqueness – borne from the particular methods and skills of the BenRiach men who craft the whisky, the ingredients they use, the distinctive copper stills and high quality barrels selected for maturation.

BenRiach boasts one further special difference – standing apart from the other Spey Valley distilleries, the traditional floor maltings with their distinctive pagoda style chimneys can produce peated, malted barley, enabling the distillery to capture the defining taste of peat reek in a few of their special bottlings.
As a result, in addition to the truly great aged bottlings at 12, 16, 20, 25 and 30 years old, The BenRiach Distillery Company also includes two peated single malt expressions within the portfolio; the aptly named 'Curiositas', aged 10 years old, and its big brother, the 21 years old 'Authenticus', both of which will delight and surprise both whisky connoisseur and newcomer alike.

In April of 2004 the distillery, which was previously under the ownership of Chivas Brothers, was acquired by 3 entrepreneurs, led by Scotch Whisky industry veteran Billy Walker, and The BenRiach Distillery Company was born.
Now BenRiach, located in the 'Heart of Speyside' just south of Elgin, is once again producing its very special Single Malt Whiskies...as an independent distiller.

In June 2007, The BenRiach Distillery was pleased to announce the release of three new 12 years old BenRiach Single Malt expressions, each of which is distilled from heavily peated malted barley and originally matured in American oak, then finished in either Pedro Ximinez Sherry Butts ('Heredotus Fumosus'), Aged Tawny Port Hogsheads ('Importanticus Fumosus') or Jamaican Dark Rum Barrels ('Arumaticus Fumosus').

Each whisky is non chill filtered and bottled at 46% (92 proof) and natural colour, and comes housed in an individual gift tube. All 3 whiskies are available in strictly limited quantities, with a 1st production of just 530 six-packs of Heredotus, 420 six-packs of Importanticus and a mere 290 six-packs of Arumaticus.
With Curiositas and Authenticus, BenRiach has established a tradition of giving their heavily peated malts Latin names, and they have decided to continue this with the 3 new releases.

The 4th batch of BenRiach 'Limited Release' Single Cask bottlings were unleashed towards the end of August 2007. As with batches one, two and three, each vintage is hand numbered and bottled at cask strength, natural colour and non chill filtered. We've also enhanced the packaging, introducing mocha chocolate colours with 'nirvana' gold foiling, raising the profile of the product on-shelf.

BenRiach Distillery won 'Distillery of the Year 2007' at the Malt Advocate Whisky Awards at Whisky Fest New York, an annual event attended by over 2000 whisky fanatics. This is without doubt the biggest accolade we have received in our 3 ½ year existence as a company.


What is even more significant is the fact that this category is open not just to Scotch whisky distillers, but to whisky producers from across the globe, including distilleries from the other major regions of production – Ireland , the US , Canada and Japan . Not a bad achievement for a wee independent distillery!
Courtesy of The BenRiach Distillery
Nose:

Honey, vanilla, floral, fruity with well balanced wood overtones.

Colour: Mid-amber, hints of gold.

Taste: Rounded medium to full bodied, rich honey, vanilla with hints of cream, spice and chocolate.

Awards: Silver Medal, International Wine & Spirits Competition 2006; Bronze Medal, International Spirits Challenge 2005

Matured in the traditional style in American bourbon barrels, this whisky is then 'finished' in Pedro Ximinez Sherry butts, sourced from the bodegas of Jerez de la Frontera in Andalucia, Southern Spain. During this second period of maturation the whisky derives many interesting characteristics specific to the Pedro Ximinez butt.



Nose:

Honey, sultanas, dark chocolate with a flood of Pedro Ximinez Sherry.



Colour:

Gold



Taste:

Cream and honey, infused with papaya, rosehips, eucalyptus and dark chocolate, all interwoven with rich Pedro Ximinez Sherry and oak wood.

Matured in the traditional style in American bourbon barrels, this whisky is then 'finished' in Dark Rum barrels, sourced from the Caribbean island of Jamaica. During this second period of maturation the whisky derives many interesting characteristics specific to the Dark Rum barrel.



Nose:

Fantastic interaction between toffee, spices, cinnamon and sultana, with a rich backdrop of rum.



Colour:

Light gold.



Taste:

Toffee, cinnamon, apricots, rosehips and chocolate, with an avalanche of rum and sultanas in the finish.

Matured in the traditional style in American bourbon barrels, this whisky is then 'finished' in Aged Tawny Port hogsheads, sourced from the Douro region in the north of Portugal. During this second period of maturation the whisky derives many interesting characteristics specific to the Port hogshead.



Nose:

Crème brulée, honey, cinnamon and coconut in harmony with rich port notes and oak wood.



Colour:

Copper.



Taste:

Butterscotch, herbs, cinnamon, peaches and sultanas, infused with rich port and oak wood notes.

This fine single malt captures fruit, honey, heather, spice and oak.



Nose:

Fresh heather, fruit, honey, nuts and oak wood.



Colour:

Amber, gold.



Taste:

This expression cleverly captures fruit, honey, heather and spice notes, against a backdrop of mellow oak wood, in a fresh and lively combination.

Matured in the traditional style in American bourbon barrels, this whisky is then 'finished' in Aged Tawny Port hogsheads, sourced from the Douro region in the north of Portugal. During this second period of maturation the whisky derives many interesting characteristics specific to the Port hogshead.



Nose:

Crème brulée, honey, cinnamon and coconut in harmony with rich port notes and oak wood.



Colour:

Copper.



Taste:

Butterscotch, herbs, cinnamon, peaches and sultanas, infused with rich port and oak wood notes.


All Tasting Notes Courtesy of The BenRiach Distillery
The BenRiach Whisky Distillery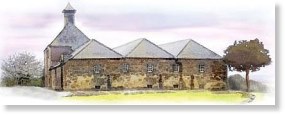 BenRiach Voted "Whisky Distillery of the Year" 2009

BenRiach Distillery was crowned 'Whisky Distiller of the Year' at the annual 'Icons of Whisky Scotland' Awards, at a lavish ceremony held at Oran Mor in Glasgow's West End. The 'Icons of Whisky' is an annual event, organised by Whisky Magazine, and recognises the great and the good from the various whisky producing regions of the world.

'This is a fantastic achievement for a private, independent company, and is recognition for the creative and innovative things that we have been doing at BenRiach over the last four years. It also reflects hugely the high quality of the team we have built at The BenRiach Distillery Company.' ~ Billy Walker, BenRiach's Managing Director


The story of BenRiach – the Hill of the Red Deer, is typical of the great Speyside distilleries. Built in 1898, the distillery was sited amongst the rolling barley fields that rise to the foothills of the Grampian mountains. The barley used in crafting the whisky was grown around the distillery and the water was...and still is...drawn through the rock that lies deep below the distillery. The barley harvested from the fields surrounding the distillery would be spread across the floors of the malting loft to germinate. Peat, cut from the hills above the distillery, fired the kiln and produced the heat required to control the germination process and the distinctive, peat scented smoke would be seen curling upwards from the malting chimneys throughout the year.

The distillery manager would oversee the slow and deliberate crafting process of BenRiach whisky – managing the transformation from malted barley to wash, to distilled spirit and into high quality oak casks, some sourced from the great sherry bodegas of Spain, in which the whisky would then peacefully rest and mature in the traditional long, low, earth floored warehouses adjacent to the stillhouse. This was the beginning of the BenRiach story.

The BenRiach Distillery Timeline

1898 The BenRiach Distillery is established by the Grant Family on the same site as the Longmorn Distillery. Indeed, locally BenRiach was sometimes referred to as 'Longmorn 2'. However, the timing proves to be unfortunate, preceding the 'Pattison Crash' by just a few months. 'Pattison, Elder and Co', fronted by Robert and Walter Pattison, were the biggest purchaser of whisky at that time. Because of their buying power, distilleries were willing to extend significant credit to Pattison Elder, unaware of the firm's precarious financial position. When they eventually went bust, many distilleries were crippled, and the whisky business moved into a period of recession.

1900 Widespread distillery closures follow the Pattison Crash, and BenRiach is mothballed after just two years of production. The distillery remains closed until 1965, however BenRiach's floor maltings remain in constant production during this period, providing malted barley for the fully operational Longmorn Distillery.

1965 BenRiach is re-opened by Glenlivet Distillers Ltd, having been almost totally rebuilt, and production re-convenes. However, a large number of the distilleries mothballed in 1900 remain closed to this day, and in some cases have been demolished.

1978 Glenlivet Distillers Ltd, and the various distilleries under their ownership, including BenRiach and Longmorn, are purchased by Canadian whisky firm Seagrams

1983 In addition to the regular distillation, production of peated malt whisky commences. This move is a response to the increasing cost of Islay whisky due to a general industry shortage. With no Islay distillery in their portfolio, and with peated malt a key component in Seagram's blended whisky brands, the firm decided to produce their own peated Speyside, at BenRiach - a very unusual move at that time for a Speyside distillery.

It is as a result of the stock of peated BenRiach that the previous owners laid down that we are able to bring you 'Curiositas', the only comercially available Speyside single malt distilled from peated malted barley.

Since taking over the distillery in 2004, we have continued to distil both varieties of BenRiach; peated and non-peated. Rest assured that the future of both styles of BenRiach is secure.

1985 As production steps up, BenRiach is expanded from two stills to four.

1999 The BenRiach floor maltingsare closed, after 101 years of uninterrupted operation. The maltings remain in good working order, and could be re-activated almost immediately.

2001 Seagrams are acquired by French firm Pernod Ricard, creating the 2nd largest spirits firm in the world after Diageo.

Of Pernod's stable of distilleries, Glenlivet, Aberlour, Glen Grant and Longmorn remain at full capacity. Glenkeith, silent since 1999, remains closed and Edradour, the smallest malt distillery in Scotland, is sold to independent Signatory.

Four distilleries in the Pernod Ricard group move to rotational production, distilling for just 3 months of the year; BenRiach, Allt a'Bhainne, Braeval and Caperdonich.

2002 All four distilleries are subsequently mothballed in August of 2002.

2004 In April 2004 BenRiach is acquired by an independent consortium consisting of 3 partners; Scotch Whisky veteran Billy Walker, and South Africans Geoff Bell and Wayne Keiswetter.

Production re-convenes immediately, meaning the inventory is effectively uninterrupted.

On the 7th August 2004, the first bottling of BenRiach under the new owners takes place; BenRiach 'Heart of Speyside', 12, 16 and 20 years old, and the peated 10 years old are all released to the public for the very first time.

On the 20th September 2004, the first distillation under the new owners is filled to cask. 96 'green' (i.e. first fill bourbon) barrels are filled, numbered 1 to 96, and are immediately transferred to the BenRiach warehouses for maturation, not to see the light of day for at least 12 years.

2005
January
The first series of official single casks bottlings from the distillery are released. Bottled in December 2004, and randed as 'BenRiach Limited Release', 4 vintages, from 1966, 1970, 1978 and 1984 (peated), are brought to the market.

April The BenRiach Distillery Company wins the 'Best International Business' award at the 2005 Scottish Enterprise Forth Valley Business Awards.

June BenRiach then follows this regional success by winning the national prize, taking the award for 'Best International Business' at the Enterprising Scotland Awards 2005 at the Edinburgh International Conference Centre.

October The 2nd series of 'BenRiach Limited Release' single cask bottlings are liberated, with 7 vintages, from 1968, 1972, 1975, 1976 (peated), 1979 (peated), 1986 (peated) and 1988, launched. These were bottled in September 2005.

BenRiach launch 'Authenticus', aged 21 years and distilled from peated malted barley. The bombastic older sibling to Curiositas, this is the 2nd peated expression from BenRiach. As a peated single malt from Speyside, and with annual production limited to 800 six-packs, this is a rare whisky indeed.

Contact Us
Elgin, Morayshire, IV30 8SJ Scotland
Tel: +44 (0) 1324 682220
Fax: +44 (0) 1324 682224

The BenRiach Distillery is not open to the public.

Courtesy of The BenRiach Distillery