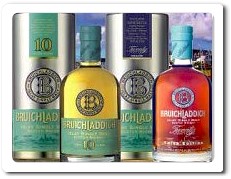 Bruichladdich (try 'Brook-Laddie') is a Gaelic reference to the 'raised beach' upon which the distillery is sited, on the Hebridean Isle of Islay, on Scotland's wild west coast. Built in 1881 by William Harvey and his brothers, it was closed down in 1994 as "surplus to requirements".
On the 19th of December in 2000, it was acquired by a small group of private investors led by Mark Reynier. Following extensive renovation, the distillery recommenced distilling at 08.23 on the 29th of May in 2001. Bruichladdich, now a private Scottish company operated, managed and directed on Islay.

Bruichladdich Distillery produces artisanal Single Malt Whisky as it was in 1881. Here, the islanders' art of distilling is still connected to its agricultural roots, with organic and heritage barleys grown on selected farms for ultimate individuality. Microchip-free distilling in tall narrow-necked stills followed by island maturation and natural bottling produces a spirit acknowledged as the purest in Scotland. This sophisticated, complex, multi-layered whisky is uniquely Islay-bottled to maximise the creamy texture and long finish - the ideal wine-drinker's dram.

Accolades include: Distillery of the Year 2001, 2003 & 2006, Malt of the Year 2003, Distiller the Year 2004, Innovator of the Year 2004 and Queen's Award to Enterprise 2005. And most recently (2007), the Superior Taste Award was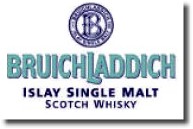 awarded to the Bruichladdich 12 year old Single Malt by the International Taste & Quality Institute. This is the only UK spirit ever to be awarded a maximum 3 star rating by a judging panel of Europe's finest chefs.

Bruichladdich is a genuinely 100% privately financed company, there are no corporations, cross shareholdings, venture capitalists etc. involved, because our goal is a long term one, and everyone involved understands this. We all hold the same belief in Bruichladdich's future as the premium, hand made, natural Islay Single Malt.
Courtesy of Bruichladdich Distillery
The 12 year old 2nd edition replaces the original 10 as the Bruichladdich aeritif dram.

Created from 100% American oak bourbon casks, this bottling replicates the layers of fresh fruit and creamy vanilla flavors associated with the 10, making it the ideal whisky to enjoy particularly before lunch or dinner - or just as an early evening dram.

Such is the integrity of the bottling with its well chosen casks that it can support a fair dilution with cool still spring water to reduce the alcoholic strength to the desired level - without losing any of the flavour.

Taste descriptors: Passion fruit, pear, gooseberry, apple, apricot, butterscotch, sweet malted barley, vanilla and thyme. Layers of green fruits, citrus fruits and vanilla cream - the perfect aperitif.

Tasting Notes by Bruichladdich


1992 Fino Sherry - Fino sherry, made from palomino grape, is the driest and palest of all the fortified wines from Jerez. Bodegas Rey Fernando de Castilla shares a similiar premium quality philosophy as Bruichladdich. We are pleased to be able to use some of their floor butts in the making Of this intriguing cuvee that can be compared and contrasted to its pair, the Bruichladdich Pedro Ximenez bottling of the identically aged whisky matured in sherry casks at the opposite end of the register of sweetness and colour.



Notes:

Distillied in 1992; bottled in 2009 - aged 17 years. Limited edition of 6000 bottles.


Information Courtesy of Bruichladdich
Bruichladdich Distillery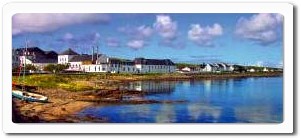 The Bruichladdich Distillery was built in 1881 as a state-of-the-art distillery by The Harvey Brothers of the whisky dynasty family and it has remained unchanged ever since. Capacity doubled in 1960 to 1m litres (closure of own maltings), and again in 1975 (two extra stills) to 2m litres – but there was not enough water. From 1992 to 1994 there was a rapid succession of corporate owners (Invergordon, Whyte & MacKay, Jim Beam and Fortune Brands). It closed down in 1994 – 'surplus to requirements' and apart from a brief period in 1998, it lay silent until May 2001.

The distillery's buildings and stocks were bought for 7.5 million on 19th December 2000 by a private investor group led by former wine merchant Mark Reynier. It is now a private, Scottish company with shareholder base of 45 private individuals,
including Islay landowners.

Scotland's purest single malt whisky is made from an unusual marriage of manual C19 equipment, inspirational distillery design and pre-industrial distilling techniques. 500,000 litres are distilled annually from 100% Scottish barley – increasingly Organic and Islay grown – from different farms (terroirs), varieties and peating levels.

Matured beside the Atlantic, the whisky is bottled in Islay's only bottling hall - 100% naturally - free from chill-filtration, colouring, and homogenisation. Islay water, filtered through the oldest rocks in the whisky world, is used to reduce from cask to bottling strength of 46%. Inspired by both the wine and whisky worlds, pioneering whiskies are designed by Master Distiller Jim McEwan. Bruichladdich is known as The Sophisticated Islay. Owing to the unusually tall, narrow-necked stills our single malts are subtle yet compelling, fresh and 'un-medicinal'. As the old French proverb says: "it is in old pans that one does the best cooking".

Bruichladdich does not use any computers or automated processes used in the production of their whisky. The original
Victorian machinery, painstakingly restored over six months, is still used today. Since all spirit is retained (none being used for blending) a minimum of 710,000 litres are distilled annually, by slow trickle distillation.

Bruichladdich is a proudly independent and fiercely private Scottish company - incorporated, capitalised, financed and managed in Scotland. We are proud that the distillery is once again in private hands for the first time since the death of William Harvey the founder in 1936.

Reservations
Mary will be glad to organise a tour of the distillery for you. Please call +44 (0)1496 850 190 or send an e-mail to: Mary at The Bruichladdich Distillery In order to ensure we can give you the time that you deserve, please book your visit in advance.

General Enquiries
Email general enquiries here.... or
Call +44 (0)1496 850 190

Shop Opening Hours
Every week day (Monday - Friday) tours are held at 10.30, 11.30, 2pm and 3pm. The shop is open from 9am until 6pm. Tours on Saturday are held at 10.30 and 2pm and the shop is open from 10am until 4pm. We are closed on Sunday.

Cost
£5 per person, including a dram. Approximate time: 45 minutes - depending on how many questions you ask….