Clynelish Distillery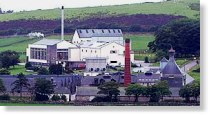 Located on the A9 in the popular holiday town of Brora with commanding views of the North Sea. Spring water from the Clynemilton burn is used to produce this fruity, slightly smoky Single Malt Scotch Whisky.

Built in 1819 on his new farm, Clynelish provided a ready market for barley grown by the future Duke of Sutherland's tenants, cruelly evicted from their crofts inland to make way for sheep in the notorious Highland Clearances. Life was a virtuous circle. The local mine provided coal to heat the stills. Spent grains from the distillery fed local livestock. Their manure improved the quality of the land… on which the barley was grown… from which malt whisky was made.
Unusually, the origins of the name Clynelish itself are infrequently referred to, but the Gaelic for a green plain or pasture is Cluain, whilst a Lios or Leas is an enclosure or garden – so we can speculate that the name Cluain-Lios, duly anglicised as Clyne-Lish, simply refers to cultivated land, in other words, a farm. And as we've seen, the distillery was indeed built on Clynelish Farm, which still exists.
The whisky was highly regarded. Only private customers were supplied; 'trade orders' were refused. In 1886 the early whisky tourist, Alfred Barnard, wrote that this was 'always the highest priced of any Scotch whisky' whilst it was sold around the beginning of the twentieth century as 'The Finest Highland Malt Whisky'. Professor Saintsbury, whose practice was to keep a 'living cask' of the finest malt whiskies, spoke highly of 'Clyne Lish' in his 1920 classic, 'Notes On A Cellar Book', commenting 'A friend of mine from Oxford days… held some mixed Clyne Lish and Glenlivet of mine to be the best whisky he had ever drunk.'
The barley that makes Clynelish™ is still malted in the Northern Highlands and water is still piped down from the Clynemilton Burn to the distillery. They go to make a cool, coastal single malt whisky, aged in oak casks for at least fourteen years.
The original distillery was closed for a short time but reopened as Brora Distillery from April 1969 until May 1983. It produced a heavily peated whisky for blending with a completely different character, leaving the new Clynelish to carry on the tradition.
The new Clynelish is consequently one of the youngest distilleries on the malt map, with production starting in 1967. It is three times the size of the original distillery, and has retained the traditional still and water supply to guarantee the authentic character of the malt.

Distillery Manager: Andrew Millsopp

January – March
Monday - Friday: 10am - 5pm
Tours are available
April – May
Monday - Friday: 10am - 5pm
Tours: 11am, 12.30pm, 2pm, 4pm
June – September
Monday - Saturday: 10am - 5pm
Sunday: 12pm - 5pm
Tours: Throughout the day, last tour 4pm
October
Monday - Friday: 10am - 5pm
Tours: 11am, 12.30pm, 2pm, 4pm
November – December
Monday - Friday: 10am - 5pm
Tours are available.
Closed between Christmas and New Year
All up-to-date information for our distilleries can be found on www.discovering-distilleries.com
Contact Us
Clynelish Distillery,
Brora, Sutherland
Tel: +44 (0) 1408 623000 Fax: +44 (0) 1408 623004
Courtesy of Clynelish Distillery