Deanston Single Malt Scotch Whisky
Deanston near Doune,
Perthshire FK16 6AG Scotland
Tel: +44 (0)1786 841 422 / Fax: +44 (0)1786 841 439
Viewer's Comments about Deanston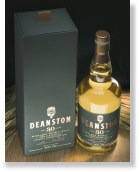 Deanston Distillery is situated outside the town of Doune, Perthshire, and lies on the banks of the River Teith, which rises in the nearby mountains of the Trossachs. Its origins lie in the historic centre of Scotland, close to Stirling Castle, the Wallace Monument and Bannockburn. The waters of the River Teith are considered to be the purest in Scotland, and are used in the distillation at Deanston.

About 15% of the Deanston's production is marketed as single malt, while the remaining is used in blends - most notably Scottish Leader Blended Scotch Whisky, which is an international award winning blend with a honey rich smooth taste profile.

Deanston is owned by Burn Stewart Distillers Limited. In 1995 Burn Stewart commissioned a gin distillery on the Deanston site making it capable of producing the highest quality distilled London dry gin.

A 30 year old Deanston Single Highland Malt Scotch Whisky Limited Edition, with an Oloroso Finish, is the most recent release by Burn Stewart. This mature Deanston single malt has been created from some of the oldest Deanston stocks available today, making it an exclusive offering and something special that will only be available in the U.S.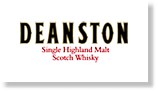 Burn Stewart Distillers Limited is a fully integrated Scotch whisky producer and brand owner a total of three whisky distilleries and a strong portfolio of Scotch whisky brands. With its head office and bottling hall based in East Kilbride near Glasgow, and, with its three distilleries; Deanston in Doune, Perthshire; Bunnahabhain on the Isle of Islay; and Tobermory based on the Isle of Mull, Burn Stewart produces and markets a well balanced range of Scotch whisky brands to appeal to every type of Scotch consumer.
Courtesy of Deanston Distillery