Fettercairn Single Malt Scotch Whisky
Fettercairn Distillery, Laurencekirk
Kincardineshire AB30 1YE Scotland
Tel: +44 (0)1561 340244 / Fax: +44 (0)1561 340447
Viewer's Comments about Fettercairn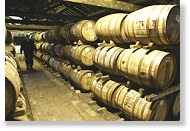 The village and the distillery of Fettercairn are snugly tucked away at the foot of the Grampian mountains. Founded in 1824, Fettercairn is one of the oldest distilleries in Scotland and its long history reflects the ebb and flow fortunes of the whisky industry itself.

Initially, Fettercairn was run as a farm distillery by tenants of the Fasque estate. Then in 1887, the Fettercairn Distillery Co. was formed with Sir John Gladstone as the chairman, who was also the father of the Prime Minister, William Gladstone. Overall, William Gladstone had been beneficial to the whisky industry when he was in power as he passed reforms that abolished the punishing malt tax, and permitted the sale of whisky in bottles to the public.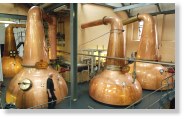 Throughout the following years, ownership had changed to National Distillers of America then to Tomintou-Glenlivet Distillery Co. Ltd., to Scottish & Universal Investment Trust (Sir Hugh Fraser's SUITS group) to its present owner, Whyte and Mackay Distillers.

Fettercairn Distillery contributes to the Whyte and Mackay blend. It is also available a single malt - although the percentage is only 4%.
Courtesy of Fettercairn Distillery