Glyn Albyn Single Malt Scotch Whisky
Telford Street, Inverness
Highland, IV3 5LD Scotland
Viewer's Comments about Glyn Albyn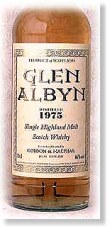 The original Glen Albyn Distillery was founded in 1844 by the Inverness Provost at the time, James Sutherland. Three years later, fire destroyed the main building of the distillery and production did not resume until 1852. However, misfortune continued when the the owner went bankrupt another three years later and the distillery closed. Although used briefly as a flour mill, Glen Albyn lay silent until 1884 when it was purchased by A.M. Gregory who rebuilt the distillery, kept the same name and had his own railway which linked to the main line.

During World War I, Glen Albyn was closed once again as it was occupied by the American military and used as a U.S. Naval base. In 1920, Charles Mackinlay and the distillery manager, John Birnie, acquired the Glen Alybn distillery. They also owned the neighboring Glen Mhor Distillery. In 1972, Glen Albyn was acquired by DCL.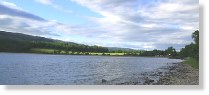 Due to cutbacks, DCL closed the Glen Albyn Distillery in 1983. A few years later, the distillery was demolised to make way for new development.

The bottles of Glen Albyn whisky are stored in reserves and private collections.