Lagavulin Whisky Distillery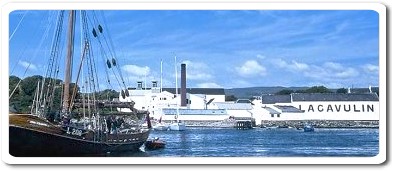 Lagavulin Distillery
Among the great homes of malt whisky the greatest is Islay, home even today to seven active malt distilleries. And first among the Islay malts is Lagavulin™ - the definitive Islay malt.

Islay came late to law and order. It was well into the 19th Century when arrangements to collect duty here finally fell into line with those applying elsewhere in Scotland and legal distilling became the norm.
As early as 1742, there were perhaps ten illicit stills operating at Lagavulin. In 1816 local farmer and distiller John Johnston founded the first legal distillery, within view of Dunyvaig Castle, once the stronghold of the Lords of the Isles.
A year later Archibald Campbell founded a second, which seems later to have traded under the name Ardmore. After Johnston's death the two were united, when Glasgow-based Islay malt merchant Alexander Graham, to whom Johnston had been in debt, acquired Lagavulin for the princely sum of £1,103 9 shillings 8 pence; approximately $2000 by today's currency standard.
Graham improved the buildings and his successors, James Logan Mackie & Co., carried on the business successfully. Lagavulin went from strength to strength. Alfred Barnard, visiting in 1887, commented that "There are only a few of the Scotch distillers that turn out spirit for use as single malt whiskies, and that at Lagavulin can claim to be one of the most prominent."
Owner Peter Mackie became famous throughout the whisky world as the creator of the famous blend, White Horse. A man driven by the Victorian work ethic and so nicknamed by his staff "Restless Peter", he was continually planning fresh ventures, one of which the famous "traditional" Malt Mill distillery opened alongside Lagavulin in 1908 and closed in 1960.
Today's Lagavulin™, winner of Gold Medals at nine International Wine and Spirit Competitions and the 1993 Ian Mitchell Trophy as best 'Special Edition' Single Malt Scotch Whisky, is acclaimed by writer Jane MacQuitty as "gloriously rich, smoky, iodine-scented."
Lagavulin™ is a wonderfully rounded pleasure. Its recently described "awesome and marvellous complexity of flavours" are enjoyed by a small but growing band of malt lovers, for whom this big, dark, intense character just is malt.
"Restless Peter" can rest easy at last....

Visit the Lagavulin Distillery
Take a tour of the distillery, see our distillers at work and view the unusual pear shaped stills. Peated malt, slow distillation and long maturation together ensure Lagavulin develops a complex, rich, peaty character. Lagavulin is a spirit which likes to take its time.

Distillery Manager: Graham Logie

Opening Times
Open all year round, however, we are closed between Christmas and New Year.

January to December
Monday thru Friday, by appointment only. Please call: +44 (0) 1496 302400

Admission
Adults: £4.00 / This charge includes a discount voucher which is redeemable in the distillery shop towards the purchase of a 750ml bottle of single malt whisky. Admission is free to all Friends of the Classic Malts.

Getting There
From Port Ellen take the Ardbeg road. Lagavulin is the second distillery on your right.
Parking / Reception
Parking is on the right before you reach the distillery. Expect a great Islay welcome your guide. The offices, reception and dram room are tastefully wood-pannelled with soft green and creams. Look for the huge quilt map of Islay in the reception area.

Contact the Lagavulin Distillery
Port Ellen Argyll
PA42 7DZ Scotland
Telephone: +44 (0) 1496 302400
Fax: +44 (0) 1496 302733
Courtesy of Lagavulin