Mortlach Single Malt Scotch Whisky
Mortlach Distillery
Dufftown, Banffshire
AB55 4AQ Scotland
Tel: +44 (0)1313 377 373
Viewer's Comments about Mortlach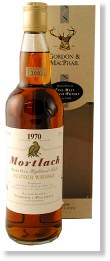 Dufftown boasts several distilleries and includes Mortlach, its oldest which was officially licensed the year of the Excise Tax in 1823. The exact year Mortlach was founded is not known, however, we do know James Findlater along with his friends Donald McIntosch and Alexander Gordon are responsible for its creation. Glenfiddich was the second distillery established in Dufftown by William Grant in 1887. He had been a Mortlach employee for about 20 years when he turned in his notice in 1886. Feeling as though he knew
enough about the industry, he set out to build his own distillery.

Mortlach was under the ownership of J & J Grant of Glen Grant for awhile. They removed the distilling equipment and the distillery lay silent. During this time, it was utilized as a church and then as a brewery. Eventually in 1852 it was re-equipped as a distillery by John Gordon and started producing "The Real John Gordon".

In 1853 John took on George Cowie as his partner. When Gordon passed away in 1867, Cowie was left as the sole owner. Cowie was also a surveyor for the railway companies and later became the provost (mayor) of Dufftown. His son, Alexander Mitchell Cowie was responsible for a railway which connected Mortlach to the Dufftown station. After Cowie's son died during WWI in 1917, the distillery, which was the largest in the area at that time, was sold in 1923 to John Walker & Sons. It has since become a part of the Diageo portfolio. Mortlach is an important contributor to Johnnie Walker Red Label.



Mortlach is unique in its way of having a very strange distilling process. The three wash stills and three spirit stills are all of different and unusual sizes and they're not paired off. This complicated process however, produces a top quality spirit which is full bodied and considered to be one of the best in Speyside.