Speyburn Whisky Distillery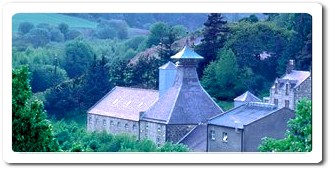 Often described as the most photographed distillery in Scotland, Speyburn Distillery sits nestling in a valley on the northern edge of Rothes. There is a timeless feel and an air of serenity - the type of place whisky was meant to be made.
The distillery has a compact layout, due mainly to the geography of the land. The architect, Charles Doig, designed the distillery using height as opposed to width. The unique drum maltings occupy a smaller area than a conventional floor maltings and other buildings, including the cask warehouses, are on two or three levels.
Very little has changed over the last 100 years with most of the original features still intact - indeed still being used, although the maltings are no longer in production. Once milled the grist and hot water is transferred to a traditional rake mash tun from which 25,000 litres of wort is pumped into Douglas Fir wash backs. The still room has never been extended and houses a single pair of stills. True to form the alcohol vapours are condensed using over 100 metres of copper pipe emerged in cold water worm tubs.
Although 80% of Speyburn is tankered away to be filled at Inverhouse's headquarters at Airdrie, the remaining spirit is filled into cask and stored in one of two warehouses for single malt use. Both have two floors and use wooden rails and tables to store casks two and three high.

Malting: When the Speyburn Distillery was designed, the decision was taken to install 'Henning's Pneumatic Drum Maltings'. There were a number of benefits: less space required; less manual work (no malt to turn) and the maltings could operate all year round.
The maltings were set out on three levels. The barley was stored on the top level before being passed down into one of the three steeps on the middle floor. One steep then filled two germination drums which slowly revolved to stop the rootlets matting together. After several days the green malt was transferred to the kiln for drying. Again the Speyburn maltings were slightly different - there were two drying floors, one above the other. Green malt was "pre-dried" on the top floor before being dropped down onto the bottom floor. Speyburn was the first malt distillery to have this type of maltings, although Glen Grant and St Magdalene Distilleries subsequently had drum maltings installed.
The drum maltings at Speyburn are the only remaining examples. They ceased operation in 1967.

Fermentation: Although the maltings are no longer in production, our malt is still stored in the original 4 wooden malt hoppers. Once milled into 'grist', the malt is mixed with hot water in a traditional rake 'mash tun'. The liquid extracted during the mashing (known as 'wort') is then transferred to Douglas Fir fermentation vessels (called 'wash backs') where the yeast is added which causes fermentation and creates alcohol.

Distillation: The still house at Speyburn has never been extended and houses a single pair of stills. These stills are relatively small, with wide necks which help capture the maximum amount of flavour and character. In 1962 Speyburn's stills converted to indirect steam heating from coal-fired.
As a very traditional distillery, Speyburn features 'worm tub' condensers to cool the distilled spirit vapour back into liquid. These worm tubs are 100-meter long copper tubes, and their use contributes to the unique features of Speyburn spirit - a rich, rounded aroma with hints of spice and a nutty oiliness.

Maturation Speyburn single malt sits quietly maturing in one of two traditional 'dunnage' style warehouses. Unusually, these warehouses have two floors, using a system of wooden rails, tables and lifts to store casks two and three high.
This style of warehouse ensures high levels of humidity, which, like fine wine, is the optimum atmosphere for the maturation of fine Single Malt whisky.
Courtesy of Speyburn Distillery