Springbank Single Malt Scotch Whisky
Springbank Distillers Ltd
85 Longrow, Campbeltown, Argyll, PA28 6EX Scotland
Tel: +44 (0) 1586 552009 / Fax: +44 (0) 1586 553232
Viewer's Comments about Springbank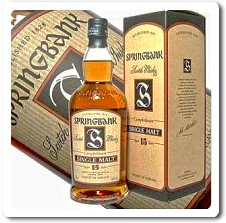 Springbank Distillery is unique. It is the oldest independent family owned distillery in Scotland. Founded in 1828 on the site of Archibald Mitchell's illicit still, the Springbank Distillery is now in the hands of his great-great grandson, Hedley G. Wright. It is the only distillery in Scotland to carry out the full production process on the one site. 100% of the traditional floor malting, maturation and bottling is done at the distillery in Campbeltown.

The Distillery produces the most hand made whisky in Scotland, with traditional production methods being used throughout the process, and human involvement at each and every stage. It is the only distillery in Scotland to have never chill-filtered, nor do we add any artificial colourings to any of our single malts. It is also the only distillery in Scotland to produce three different single malts, Springbank, Longrow and Hazelburn, using three different production methods.

For most of the 17th and 18th century, Campbeltown was a prominent smuggling centre. Following the Excise Act of 1823, taxes were reduced to such an extent that legal distilling at last became competitive against smuggling.

This really was the beginning of the golden years for Campbeltown distillers, who hastily began applying for licences. Campbeltown saw a total of 34 distilleries established during the boom of the 19th century and subsequently became known as "Whisky Capital of the World."

However, the levels of production were so high that it was inevitable the bubble would burst. The early part of the 20th century saw changes which had a detrimental effect on the Campbeltown whisky trade.

Overconfident in their Glasgow monopoly, some Campbeltown distillers became complacent, putting the emphasis on quantity, not quality, which led to the production of inferior spirit. This, coupled with post-war economic depression and prohibition in the United States, took its toll and by 1930 only three distilleries survived. Rieclachan closed in 1934, leaving only Springbank and Glen Scotia.

Springbank Distillery was officially established in 1828 on the previous illicit site of Archibald Mitchell, great-great grandfather of the present Chairman, Mr. Hedley Wright. It was Archibald's sons, John and William who took out a licence and distilled legally as J & W Mitchell.

However, John and William were farmers as well as distillers, and quarrels about sheep eventually led them to go their separate ways. John took his own son Alexander into partnership and the name changed to J & A Mitchell & Co. Ltd., as it is today.

The Mitchell Family's interest in distilling did not confine itself to just Springbank. The Mitchells were in fact one of several important distilling dynasties in Campbeltown. Archibald Mitchell had five children: Hugh, Archibald, John, William and Mary.

Young Archibald was an original partner in Rieclachan, and was soon joined by his brother Hugh. John bought out Toberanrigh Distillery which had originally been built by his cousin Alexander. Archibald Senior's only daughter, Mary, founded Drumore in 1834 and William, after being in partnership first with John at Springbank then with his other brothers at Rieclachan, went on to found Glengyle in 1872 which he pursued as sole proprietor.

Successive family generations have followed in John Mitchell's footsteps, and have strictly adhered to traditional methods of distillation. Indeed the distillery has remained much the same since 1828, albeit for a few subtle changes.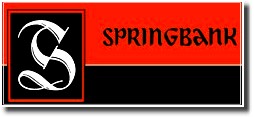 While history and tradition have a great influence on Springbank, the company is also looking to the future. In 2000, J & A Mitchell & Co. Ltd. purchased the buildings of the Old Glengyle Distillery which was founded by the same William Mitchell who took part in the establishment of Springbank; these have been refurbished, and on 25th March 2004 Mitchells Glengyle Distillery was opened. This means that the Mitchell family are now the owners of not only Scotland's oldest independent distillery but also Campbeltown's youngest.

Courtesy of Springbank Distillery
SPRINGBANK 15 YEAR OLD SINGLE MALT SCOTCH WHISKY
Like a storm gathering of the Kintyre coast. Dark and ominous, yet tastes so good. The richness comes from the high percentage of sherry casks used in maturation. This is a truly classic Springbank, best enjoyed after dinner, or with your favourite cigar.

Colour: Dark Russet
Nose: Sherry, dark chocolate, christmas cake, almonds, toffee and oak.
Palate: Creamy, raisins, dark chocolate, figs, marzipan, brazil nuts and vanilla.
Finish: Oak and sherry notes sustain, mingling with hints of leather.
SPRINGBANK 18 YEAR OLD SINGLE MALT SCOTCH WHISKY





Colour:

Rich Gold



Nose:

Initial notes of marzipan give way to darker aromas like liquorice and treacle toffee. Like a home-baked cake full of everything that smells so good that you can't resist another helping.



Palate:

Incredible depth and balance. That classic Springbank style is evident, backed up by the fruits of 18 years maturation in predominantly sherry casks. Rich and oily from the moment it hits the palate, the whisky develops to reveal dried fruits and just a hint of smoke. A fine combination of sugar candy, almonds and Christmas cake emerge as the whisky slips off the tongue.



Finish:

On and on and on. A reassuring wisp of smoke rises from the back of your mouth and around the palate, enveloping a flavour which contains more raisins, dark chocolate and treacle.

This whisky doesn't want to be forgotten in a hurry - and why should it disappear quickly after we've been holding out for it for so long?
SPRINGBANK CV SINGLE MALT SCOTCH WHISKY



Springbank CV is the product of a variety of different cask types and sizes, all specially selected by Director of Production Frank McHardy and Distillery Manager Stuart Robertson. Frank and Stuart's years of experience allowed them to choose a range of casks, every one complementing the other to ensure a great whisky with lots of flavour and the classic Springbank Style. What does CV mean? Chairman's Vat? Curriculum vitae? Cuvee of Vintages? It means whatever you want it to mean, enjoying the whisky is the most important thing.

Colour: Muted gold with a reddish glow. Nose: The initial nose is a mix of subdued sherry sweetness, subtle peat notes, menthol and eucalyptus. Further nosing revealed a meaty character with complex hints of sesame oil and soy sauce.



Palate:

Subtle sherry notes come through along with a depth of oak and spice. These then evolve into notes reminiscent of our traditional Dunnage warehouses.



Finish:

The flavours remaining are mainly coming from the sherry casks, although right at the end a hint of port tannins can be detected, perhaps suggesting the pedigree of casks used for the Springbank CV.
LONGROW CV SINGLE MALT SCOTCH WHISKY
Colour: Light amber with slight olive highlights.

Nose: Very creamy, vanilla custard. The smoke develops gradually, like a slow burning log fire, never overpowering but always reassuring. Our guest taster was reminded of marshmallows toasted on a campfire - crisp on the outside and sticky sweet in the middle!

Palate: Incredibly well balanced - rich and creamy with a slight medicinal hint. The smoke is always present, washing over the palate in waves, like the soft billows of smoke from the kiln.

Finish: The gentle smoke lingers and lingers leaving you yearning for more!
SPRINGBANK 21 YEAR SINGLE MALT SCOTCH WHISKY



Springbank's scotch whisky is never chill-filtered, so all flavours, aromas and textures are retained. It has legions of supporters across the globe, and a prominent internet whisky chatroom gave thIS classic 21 year old bottling the top honours in an all-time favourite whisky poll. This bottling is now unavailable and is increasing in value at auction like many others from this fantastic distillery.
Springbank Whisky Distillery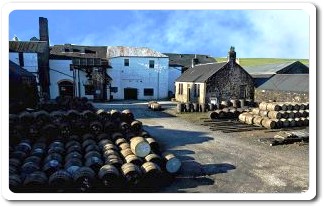 The Springbank Whisky Distillery


Springbank Distillery Whisky Tours

For information about tours / tastings or to book a place on a Springbank tour please phone +44 (0) 1586 552085. Or, send an e-mail to Springbank Distillery.

Getting There
By car: From Glasgow it is about 3 hours to Campbeltown. The most direct route is on the A82 to Tarbet on Loch Lomond, then the A83 via Inveraray and Lochgilphead.

By bus: From Glasgow there is a regular three times daily bus service. Travel time is approximately 4 and a 1/2 hours.

By air: From Glasgow airport there are two flights daily to Macrihanish airport near Campbeltown. For more information call 0141-889-3181.

Parking
Enter by the sign on the wall and up a narrow lane: park on the left opposite the distillery gates. Facing you as you enter the gate is the office in a small cottage. Sit on a barrel in the sun and await your guide.

Malting There are two traditional malting floors at Springbank, each holding between 10 and 12 tonnes. The first part of the production process involves soaking, or "steeping" the barley in water for 35 hours to increase the moisture content to around 47%, and to trigger germination.

This causes the production of enzymes in the grain that will convert starch into sugars during the later mashing process. The sprouting barley is spread on the floors and left for 5 -7 days, during which time it is turned manually every four hours to prevent matting of the roots, to regulate temperature and facilitate oxygen flow.

Kilning It is necessary to stop germination before the new shoot begins to appear so that starch is not consumed in the interests of the new plant. This is done by drying the "green malt" over a peat fired kiln. As a lightly peated whisky, Springbank malt is dried for six hours with peat, then a further 24 hours with hot air.

Longrow on the other hand is dried entirely over a peat fire for 48 hours resulting in a much more heavily peated malt. A third malt whisky, Hazelburn, is also produced at the distillery and for this no peat is used in the "kilning".

Milling The malted barley is stored for around three weeks before being processed in batches called "mashes". These are passed through a dresser which removes dust and dirt, then through a traditional Porteous mill to be ground down to "grist".

Mashing Hot water is then added to the grist and the mixture filled into the mash tun for conversion of starch into sugars. The sweet liquid that drains through the grist, "wort", is subsequently cooled and transferred to washbacks to be fermented.

A total of four waters are added to the grist, each time at a higher temperature to ensure all the sugar is extracted. The last two waters have a much lower sugar content and they are used as the first two waters for the next mash. The remaining grist, now known as "draff", is sold to local farmers for animal feed.

Fermentation There are six wooden washbacks at Springbank made of boat-skin larch, each with a capacity of 21,000 litres. It is here that yeast is added to the wort, which eventually ferments the sugars into alcohol.

The process takes at least two days, at the end of which time there is a beer-like liquid, known as "wash", with a strength between 4% and 5% ABV. This is now ready to be distilled.

Distillation At Springbank there are three copper pot-stills - one wash still and two spirit stills.
The wash still is the only one in Scotland to be heated using both internal steam coils and a direct burner to the base of the still. To prevent any solids sticking to the still bottom, the wash still is fitted with a rummager, a revolving arm which drags copper chains around the bottom of the still, dislodging any solids contained in the wash which are likely to stick. In the process it is constantly exposing new copper which, it is thought, may contribute to the final flavour of the whisky.

Springbank, it is said, is distilled two and a half times whereas Longrow is double and Hazelburn triple distilled.

Maturation Before being filled into casks, the spirit is reduced in strength to 63% ABV, using water from Crosshill Loch, which is the source of water for the entire production process. A variety of oak casks are used to mature Springbank, including those that previously contained bourbon or sherry.

The maturation process is vital in determining the final character of the whisky, and has a major influence on its flavour. The spirit must be matured for three years before it can be called Scotch whisky - Springbank is matured for at least ten years.

Bottling As a comparatively small distillery with a limited production, Springbank carries out all its bottling on site in an old converted warehouse. The bottling process is not highly automated - instead the dozen or so workers take a very active role and their presence is vital at every stage.

Each bottle is inspected by hand allowing total quality control from start to finish. Unlike many other malts, Springbank is neither coloured nor chill filtered.

Courtesy of Springbank Distillery