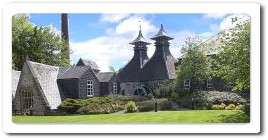 The Strathisla Distillery was restored to its former glory after it was purchased in 1950 by Chivas Brothers, becoming "The Home and Heart of Chivas Regal", the jewel in the crown of Chivas Brothers' family of malt whisky distilleries. The Strathisla Distillery is now known as Scotland's most attractive distillery, offering visitors a unique, self-guided tour of the buildings, to witness every stage of whisky-making. It is also the most photographed single malt distillery.

Distillery Tour
Welcome dram of Chivas Regal 12 Year Old
Introductory video in the Isla Room
In-depth guided distillery tour
View traditional bonded warehouse
Enjoy a dram of Strathisla 12 Year Old
Shop offers a wide range of whiskies and gifts
Personalised Label service for Chivas Regal 12 and 18 bottle purchases
Admission £5 (under 18s free)
Opening Times
SUMMER 29th March to 29th Oct 2010
Mon to Sat 09.30 – 16.00
Sun 12.00 – 16.00
WINTER 1st Nov to 17th Dec 2010
Shop only Mon to Fri
09.30–12.30 & 13.30–16.00
The Ultimate Chivas Experience
Saturday 12:00 noon to 15:00 - This exclusive tutored tasting takes place in the private oak-panelled boardroom at Strathisla and show-cases Chivas Brothers most prestigious premium blended whiskies. The Art of the Master Blender comes to life when you are taken through the range that includes Chivas Regal 18 and 25 years old, Royal Salute 21 year old and the ultra premium, 100 Cask Selection. An experience not to be missed.
Straight From The Cask
Sunday 12:00 noon to 15:00 - This in-depth tour of one of Scotland's oldest distilleries takes you on a journey from spirit to cask, and culminates with the unique experience of sampling five of Chivas Brothers Cask Strength Edition single malt whiskies. A fascinating journey of some of the finest malt whisky names from Speyside!. This is the only tour in Scotland offering all cask strength whisky!
Cost of each individual tour: £25
pre-booking essential due to limited availability. (over 18s only)
Location / Getting There
Just off A96 in the centre of Keith, approximately 300 metres from Keith train station. Keith is on the main trunk A96 Aberdeen to Inverness road. The distillery lies in Seafield Avenue, directly off the main road. It is a few minutes from the bus route and the Keith Station.
Parking / Reception
Car park is tight and sloping, accross the road from the distillery. The Reception is elegant and here you learn that the tour is self-service, with help from the staff and a guide book. Next to reception is the Isla room wher you can sink into plush furnishings and enjoy coffee and shortbread while you master the guide book.

Contact Us
Strathisla Distillery
Seafield Avenue Keith
Aberdeenshire AB55 3BS Scotland
Tel: +44 (0) 1542 783 044
Fax: +44 (0)1542 783 039
E-mail: The Strathisla Distillery
Courtesy of The Strathisla Distillery