Alness Highland
Ross-Shire IV17 0XB Scotland
Tel: +44 (0)1349 885 001
Fax: +44 (0)1349 883 864
Viewer's Comments about Teaninich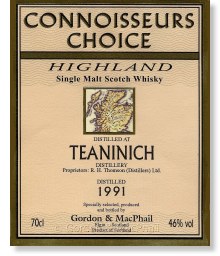 Captain Hugh Munro, owner of the Teaninch estate, founded the distillery on his own land in 1817. At that time, the Customs and Excise were pursuing a campaign to stamp out illicit distilling which used up the entire barley crop in many parishes of Ross-shire thereby posing a threat of famine. So the Commissioners of Supply, the forerunners of the Country Council, urged landlords to set up legal distilleries to provide an alternative outlet for farmers and a better end product.

At first, the hold of illicit distillers over the markets for grain and whisky proved too strong to break. Three of the four legal distilleries built in Ross-shire went of business; but, as Munro told a parliamentary enquiry in the 1830s, "I continued to struggle on."

After the Excise Act of 1823 reduced the fiscal burdens on legal distillers, "an extraordinary change was soon perceived." Teaninich's output had increased thirty of forty times over by 1830.

Teaninich Distillery was later carried on under Lieutenant General John Munro, an exemplary landlord, at least in respect of his benefactions to the poor. "Not confining himself to mere percuniary contributions", the New Statistical Account of Scotland reported in 1845, "he administers to their relief by daily personal visits, by supplying them with medicines, distributing among them meals and other provisions, and by providing them with fuel during the riguour of the winter season".

General Munro was absent for many years on service in India. He granted a lease of the distillery to Robert Pattison in 1850. The next lessee, John McGilchrist Ross, succeeded about 1869, and was in charge when Alfred Barnard , author of The Whisky Distilleries of the United Kingdom, 1887, paid a flying visit.

Barnard wrote that Teaninich was "beautifully situated on the margin of the sea, and about one and a half miles from the station". It consisted of "several ranges of substantial buildings which together with the manager's house, workmen's cottages and farmsteadings, give it the appearance of a small colony...Teaninich is the only distillery north of Inverness that is lighted by electricity; besides which it possesses telephonic communcation with the proprietor's residence and the quarters of the excise officer."

Ross gave up the tenancy in 1895, when he was succeeded by Munro & Cameron, of Elgin. John Murno, a spirit merchant, and Robert Innes Cameron, a whisky broker, were the senior and junior partners in this firm, to which the Munro family conveyed the whole of the distillery capital, and all its assets, in 1898. A trade paper reported in 1899 that Munro & Cameron had spent "not much less than £10,000" in extending and refitting Teaninich." "Every vessel about the place is new, and just now the malt barns are being finished."

Innes Cameron became the sole proprietor of Teaninich in 1904. He already owned substantial interests in Highland distillery companies, including Benrinnes, Linkwood and Tamdhu and in the course of time became Chairman of the Malt Distillers Association. Cameron spent his boyhood in the coastal village of Hopeman where he was loved and revered. He lived the rest of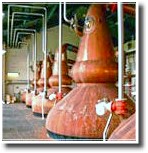 Teaninich Stills
his life in Elgin until he passed away in 1932 at the age of 72. A year later, his trustees sold Teaninich to Scottish Malt Distillers Ltd. (SMD) and today, it is owned by Diageo.
The spirit produced at the Teaninich Distillery is used mainly for blending purposes and is a key component of Johnnie Walker Blended Scotch. Although never marketed as a single malt, in 1992 a Flora and Fauna bottling was released and three Rare Malts bottlings followed. Independent bottlings are occasionally available.

Whisky author Michael Jackson describes Teaninich's house style as "Robust, toffeeish, spicy, leafy. Restorative or after dinner."
Courtesy of Diageo Scotland



TEANINICH 10 YEAR FLORA & FAUNA SINGLE MALT SCOTCH WHISKY
Nose: Intriguing; green tea, dry grasses, floral. Sappy note, sandalwood, ginger snaps, lemon verbena. About to burst into life. Water softens it, but too much kills the spiky aromatics.

Palate: Seemingly light, but complex. Almost sugary start, solid mid-palate with a lovely oily feel. Slightly austere (which I like).

Finish: Dry, soft, oily, moreish.

Comment: A dram you admire first, then love.

Tasting Notes by Dave Broom



THE MACALLAN 55 Year Old in Lalique (Rare)
Nose: Intense, beautifully combined wood and fruit. Juicy apricot. Cedar. Beeswax, polished floors. Vanilla. Delicate gingerbread. A touch of peat.

Palate: Caressing, enveloping, oily. So well in tune with the nose. Fudgey. Nutmeg. Cinnamon.

Finish: Warm, lingering spiciness.

Comment: Well-matured, amazing for its age.

Tasting Notes by Martine Nouet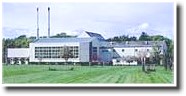 The Teaninich Distillery was founded in 1817 by Captain Hugh Munro. In 1925 a visitor commented that some of the distillery's buildings were 'rather primitive'. Both malting floors consisted of solid clay. The "vital machinery", however, was "sound and efficient". There was "an immense mash-tun" capable of mashing 500 bushels of malt at a time, and representing "the last word in modernity". There were four stills and one pair has been described as being very small.

Teaninich closed in 1939 as a result of wartime restrictions on the supply of barley to distillers. When it restarted in 1946, the smaller pair of stills was removed. At this time, a steam engine provided the power needed for loading and unloading the malt kiln, conveying malt to the mill and working the mill and the stirrers in the mash tun. A large water wheel, fed from the dam, was available to take over the work of the steam engine, and a small water wheel, fed from the overflow of the worm tanks, used to operate the rummager in the wash still.

The steam engine and both water wheels were discarded in favour of electric power when the stillhouse was refitted in 1962. The number of stills was incrased from two to four, and internal heating by steam replaced heating by coal-burning furnances. An entirely new distillation unit, with six additional stills, all steam heated, began production in 1970, making Teaninich one of the largest SMD's distilleries. The new unit was named "A Side".

The milling, mashing and fermentation part of the old distillery ("B Side") was rebuilt three years later. A plant for the production of dark grains, a high-protein animal feedingstuff, from the solid matter left over frm the mashing and distillation processes, was built in 1975.

Process and cooling water are drawn from Dairywell Spring, on the Novar Estate, where SMD has water rights. The distillery occupies a site of approximately 20 acres (9 hectares). SMD owns 13 houses for occupation by employees.

The Teaninich Distillery does not have a visitor's centre.