Tomintoul Distillery
Ballindalloch Banffshire AB37 9AQ
Tel: +44 (0)1807 590 274 / Fax: +44 (0)1807 590 342
Viewer's Comments about Tomintoul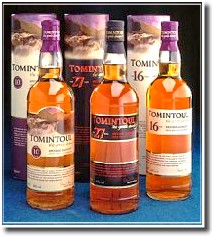 Tomintoul Distillery was built in the mid 1960s and is situated in the heart of the Speyside Glenlivet region. Speyside has long been recognised as the premier region of the world for producing Scotch whisky and the district of Livet is considered the prime district within Speyside. The pure natural water and perfect climatic conditions have combined to give Tomintoul its very smooth and rich flavour – the gentle dram.

After years of searching for the purest natural water in Scotland, we discovered the Ballantruan Spring. For millions of years this water has been flowing through the mountainside near Tomintoul - and so the distillery was built in this area to capture this unique resource. The exceptional quality of the spring water is used exclusively in the production of the Tomintoul malt whisky.

At the height of around 350m (1165 feet), Tomintoul is reputed to be the highest village in the Highlands. The location of the village, lying between the River Avon to the west and the River Conglass to the east is the reasoning behind the old military road - the A939 - built through the area during the decade following the 1745 Jacobite rebellion.

Tomintoul was originally founded during the 'age of new towns' in the latter part of the 18th century as part of an improvement plan to encourage the scattered community of the district to move to form a new village. Despite an initial lack of enthusiasm, the village was gradually established over a period of about 30 years between 1794 and 1824. More recently it holds around 300 inhabitants. Throughout its history Tomintoul has been a stopping place for travellers.

Tomintoul single malt whisky is a testament to our master distiller, Robert Fleming, whose family has been making whisky in the Speyside-Glenlivet region for four generations. Inspired by tradition, he has produced a single malt of unique quality, which is invitingly smooth and mellow.

Up until the start of 2008 Tomintoul has been available in 10, 16 and 27 Years Old expressions and has received many awards and accolades. Three new expressions were launched in 2008. First, there is "Peaty Tang", distilled in the traditional manner but, unusually for the Speyside Glenlivet region, crafted using peated malted barley to impart a distinctive smoky and heathery flavour. In contrast, the 12 years old Sherry Cask Finish was distilled in the autumn of 1995 and transferred into Oloroso Sherry butts for the last twenty months of maturation. The result is a creamy, elegant single malt with hints of Sherry sweetness.

Finally, the 1976 Vintage is a distillation from an exceptional year. Collected from hand-picked casks over 30 years later, it is a jewel amongst single malts.

Angus Dundee Distillers bought Tomintoul Distillery from the Whyte & Mackay company in 2000.
Courtesy of Tomintoul Distillery
Colour:

Rich, amber, golden colour

Nose: Soft, gentle, delicate. Some sweetness and toffee.

Palate: Medium weight malty nose with some biscuity sweetness, hints of cinnamon and mixed spice. Quite soft and gentle.

Finish: Long elegant finish

Conclusion: A top-class Scotch Malt to be drunk at any time, acceptable to any palate.

Colour:

Rich, amber, golden colour.



Nose:

Good malty nose, soft and gentle, but with subtle hints of smokiness.

Palate: Round, soft, gentle, elegant with some sweetness and smokiness.

Finish: Elegant, soft, gentle finish of excellent quality.

Conclusion: A superior Whisky which will delight any occasion

Colour:

Warm gold.



Nose:

Round, creamy with subtle hints of Sherry sweetness.



Palate:

Soft, smooth and elegant style with delicate Sherry presence.



Finish:

Mellow, soothing.

Colour:

Pale gold.



Nose:

Hints of rum soaked raisins with a touch of fruity maltiness.



Palate:

Round and soft with some sweetness and fruit. Pleasantly complex yet delicate.



Finish:

Mature, long and elegant.

*US version of the 1976 Vintage is called Reserve Aged 31 Years - Launch date TBA.

Colour:

Rich gold.



Nose:

Heathery smoke balanced with subtle floral tones.



Palate:

Gentle "Peat-reek" flavours with a hint of malty nuttiness.



Finish:

Lingering smoke and peat with a touch of sweetness.

Awards For Tomintoul 10 Years Old

Awards For Tomintoul 16 Years Old

Gold Medal - San Francisco World Spirit Competition-2003

"Exceptional" – USA Beverage Tasting Institute - 2004

Silver Medal – International Wines and Spirit Competition, Bordeaux - 2005

Silver Medal – International Spirits Challenge, London - 2006

Distinction Award – Scottish Field Whisky Merchants- 2006

Gold Medal – China International Wine & Spirits Challenge - 2006

Silver Medal - The International Wine and Spirit Competition, London - 2006

Awards For Tomintoul 27 Years Old

Double Gold Medal Winner - San Francisco World Spirits Competition - 2003

Highly Recommended by USA Spirit Journal – 2004

Gold Medal Winner, International Spirit Challenge London - 2005

Gold Medal, International Wine and Spirits Competition London - 2005

Gold Medal - "Internationaler Spirituosen Wettbewerb Germany - 2005"

Distinction Award – Scottish Field Whisky Merchants - 2006

Gold Medal and Trophy for The Finest Spirit in The Competition - China International Wine and Spirit Challenge - 2006

Gold Medal Winner (25 years old +) The International Wine and Spirit Competition London – 2006

Gold Medal Winner (25 years old +) – The International Wine and Spirit Competition London - 2007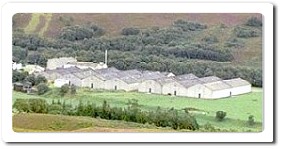 The Tomintoul Distillery is situated in the Glenlivet Estate at Ballantruan on the east side of the River Avon and in the valley between the Glenlivet Forest and the hills of Cromdale. The distillery is capable of producing over three million litres of alcohol per annum as well as having a storage capacity of approximately 75,000 casks, extensive stocks of quality product dating back 35 years, highly skilled and experienced staff and quality control which is maintained to the highest standards in the industry.

Tomintoul distilling equipment includes a semi-Lauter mash tun, six stainless steel washbacks and four stills (with boil balls in their necks). The spirit is matured in a combination of American oak bourbon casks and refill hogshead with some Oloroso sherry butts.
Visitors can only tour the Tomintoul Distillery by appointment only.

Contact Us
Tomintoul Distillery
Ballindalloch Banffshire
AB37 9AQ Scotland
Tel: +44 (0)1807 590 274
Fax: +44 (0)1807 590 342
Email: Tomintoul Distillery
Courtesy of Tomintoul Distillery