By Debi Knapp


Bushmills Whiskey Dinner
Denver, CO - Tues., March 24th, 2010
Have you ever thought about going to Ireland? I think of Ireland as a magical place. Lots of folklore, plush green countrysides and lots of pubs. Great pubs with probably some of the best ales you will ever have. Well forget about it. It's the whiskies you want. One in paticular would be Bushmills. This distillery is the oldest in the world. They have seen 400 years of history and they are very proud of their whiskey. Just ask Robert Sickler, Master of Whiskey. Robert was our host for the evening.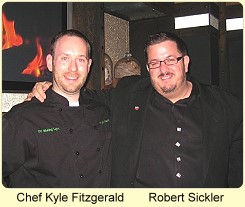 The event took place at the Old Blinking Light restaurant in Littleton, Colorado. A restaurant I will frequent in the future. The night started off with Timm Herrod, from Colorado Pipers, playing the bag pipes for us and then Robert gave us a mini history lesson on the origins of whiskey and Ireland. It was all very interesting and then the tasting began. Chef Kyle Fitzgerald, master of Southwestern cuisine, paired each dish perfectly with each Bushmills whiskey choice. There were 5 whiskies and 5 courses from appetizer to dessert.

The meal started with Bushmills Original, it was exactly what you would expect an Irish whiskey to be on the palette. Then on to Black Bush, my favorite, very yummy, smooth and maybe slightly sweet. Third course featured the 10-Year-Old Single Malt. It was nice, smooth and started out with a rustic undertone. Then the awesome 16-Year-Old Single Malt. This one had a earthy-rustic feeling to it and more bite. The aromas are fantastic. Last but not least the 21-Year-Old Single Malt. WOW! You drink the aroma first. I wouldn't say no to this one. What a way to end the meal. Perfect. After dinner we were invited to gather on the patio around the cozy fire for cigars and more libations.

When I finally visit Ireland I will certainly include The Old Bushmills Distillery in my adventures along with visiting the plush green countrysides, listening to many folklores and sampling the many pubs.
- Sla'inte!
OLD BLINKING LIGHT
PRESENTS BUSHMILLS
WHISKEY DINNER
1st course
Bushmills original
mini Bartlett pear & toasted walnut tamales with agave Bushmills sauce

2nd course
Bushmills Black Bush
Adobo pork and golden raisin taquitos with a tomatillo and guajillo salsa

3rd course
Bushmills 10 year single malt
cedar smoked salmon & chorizo tacos with green apple relish, and braised pecans

4th course
Bushmills 16 year single malt
ancho dusted duck drumstick with pickled cherry sauce and sweet mashed potatoes

Dessert course
Bushmills 1608 400th anniversary edition
Eggs and Toast:
saffron honey yolk, bruleed vanilla bean custard, with caramelized mini brioche

Cigar By The Fire
Bushmills 21 year single malt
Dried Figs rolled in pancetta powder, House made jalapeno potato chips,
and orange and cinnamon caviar with honey wafers