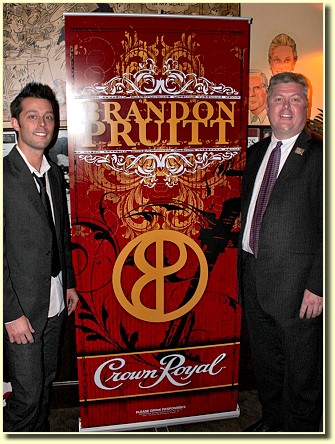 Whisky.com was fortunate to be invited to an exquisite whisky tasting event last night at The Palm Restaurant in downtown Nashville.
Up and comer country music artist Brandon Pruitt provided the music, Master of Whisky, Kevin Mulcahy provided the Royal Crown and executive chef Lee Morris, provided an amazing five course dinner for those who attended.
In between tastings and pairing, Brandon Pruitt wowed the crowd with his mix of country, blues and rock and the former Sony writer also told us how much he enjoys representing Crown Royal all over the country. Pruitt is part of an effort by Crown Royal to develop and implement programs designed to create awareness of responsible drinking among adult country music fans.
Master of Whisky, Kevin Mulcahy, gave us a taste of all five of the famous Crown Royal brands from the original to the rare Crown Royal XR. The XR limited-release special blend of Crown Royal is sold in numbered bottles, and is made from the last batch of whisky distilled at the Waterloo distillery which burned down in 1993. Crown Royal blended Whisky is the number one selling Canadian whisky brand in the U.S.
Executive chef, Lee Morris, prepared seared shrimp and scallops for the first course, grilled romaine hearts for the second, braised beef short rib for the third, pan roasted maple leaf duck breast for the forth and butter pound cake soaked with a maple and Crown black syrup for the fifth course.
Nothing like being spoiled rotten! Thanks to Brandon, Kevin, Lee and The Palm Restaurant for a great night.
Top photo: Kevin Mulcahy and Jerry holthouse; Right Photo: Brandon Pruitt and Kevin Mulcahy; Bottom photo: Kevin Mulcahy
Photos by Brad Lykken