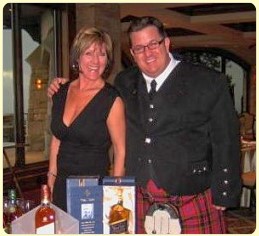 The evening started at the entrance to the very exclusive Sanctuary Golf Course, in Sedalia, Colorado. You just have to see it to believe it. The Sanctuary has a very majestic, old world feel to it. Yet, it was very cozy and has a fantastic view of Pikes Peak in the Rocky Mountains. We were greeted by Kevin Julian and Machelle Brittain from the Sanctuary who made us feel right at home. Our host for the evening was the "Master of Whisky" himself Robert Sickler. Robert is the perfect host, willing to share his vast knowledge of Whisky. Tonight we started off with a video about Johnnie Walker and his beginnings. What I got from this presentation was what a great visionary this man was. Seeing the need for a better Scotch Whisky, one that was consistent, from bottle to bottle he began mixing malts for balance and complexity-pioneering the art of blending. This gift continued on through his sons and grandsons. Five Blends were created. Each one has its own unique blend.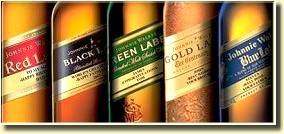 The most popular is Johnnie Walker Red Label. Vibrant would describe this young blended Whisky. Red Label is a full bodied blend, combining approximately thirty-five of the finest single malts and aged grain whiskies giving this one a "Sharp on the tongue" with a peppery after taste. Excellent for mixing with ginger ale, citrus type sodas, or the "Ultimate" Bloody Mary. Next, we have Johnnie Walker Black Label, the original blend of the Walker family aged 12 years. Deep, rich, smoky malt, peat and rich fruits hit you. These flavors hang on your tongue for a while. Black Label is excellent neat or again in your favorite cocktail. A fairly recent (15 years ago) new member of the family is Johnnie Walker Green Label. This one is a blend of four mature single malt whiskies each aged for at least 15 years and selected for the intensity of their flavors. Green Label reminds you of Nature. Sweet undertones of Heather, honey and butterscotch, subtle oak and spicy notes of cocoa and smoke. Ahh, now we have Johnny Walker Gold Label! Pure Indulgence! Crafted from an exclusive list of eighteen year-old single malts, it is suggested that you store Gold Label in the freezer and serve in chilled glasses. That's how we had it. There was such a smooth velvety feel to it as it went down your throat. The aromas and taste was a creamy toffee, honey and butterscotch utopia. More please!
Last but not least, drum roll please……..Johnnie Walker Blue Label! The Walker families highest achievement. Blue Label is one of the rarest aged whiskies in the world. Wonderful aromas of smoke, honey, rose petals, with hints of chocolate assaulting your senses. Enjoy Blue Label neat only, with a side of ice water to prepare your palate for this extraordinary treasure.
Executive Chef Daniel J Flanagan, Sous Chef Rhett C Montague and the rest of their culinary team did a superb job of pairing each Label with an incredibly fantastic dish. The evening was a complete success.
For more information on the Sanctuary Golf Course visit www.SanctuaryGolfCourse.com or e-mail Kevin Julian at kjulian@remax.com
Jim Murray, author of "Whisky Bible" says:
"Each day I have some 6,000 whiskies to choose from for a social dram if I want one. And at least once a week I will sample a Black Label. While the single malt revolution continues unabated, it is a shame that whisky lovers do not use this as a yardstick. They will find that very few malts can match this for complexity. This is the Savoy, the Everest of Deluxe Whiskies: there is not a blender who would not give their right arm - or even their left one - for the recipe of this supreme whisky. The trouble is, even if they had it, they would then struggle to find the stock. It represents probably the best value for money of any whisky in the world."