Whisky.com was so impressed with Kris' painting of the Laphroaig 40 that we had to create a page to highlight it. Enjoy!
Kris Kezar is a tattoo artist and painter currently living in San Diego California with his fiancé and two cats. Kris started tattooing professionally in 2003, and has been creating art since childhood, citing his father, a technical illustrator for General Dynamics, as his earliest artistic influence. Other influences include Alphonse Mucha, J.C. Leyendecker, George Petty, Gerald Brom, Jon Foster, and Nikko Hurtado, among many, many others.
"There are certain things that when you see them, they capture you, they literally stun you and they force you to feel something, even (in the case of art) if it's just admiration for the abilities of the artist. I feel that art should elevate the subject, make it something... more, and hopefully, that something takes the viewer with it and elevates them too. This is my goal as an artist, I want to provoke a sense of wonder, importance, and meaning. If I could pay my rent and feed myself along the way, that would be great too."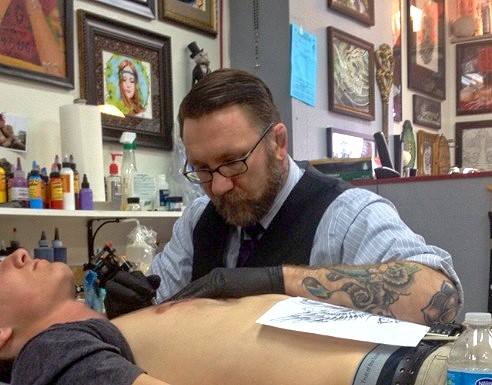 For commission requests, or to book an appointment for a tattoo please e-mail:
Tattoo.kris@gmail.com
Prints of my artwork are available at
www.etsy.com/shop/kriskezart
www.Facebook.com/tattookris
Instagram: Keinenamen