Craigellachie Single Malt Scotch Whisky
Craigellachie, Aberlour,
Banffshire AB38 9ST Scotland
Tel: +44 01340 872971
Viewer's Comments about Craigellachie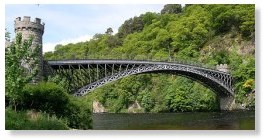 The town of Craigellachie is in the very heart of Speyside distillery country and in the desirable location close to the rivers Spey and Fiddich. The name Craigellachie means 'rocky hill' and was first applied to the cliff on which much of the village is situated. The village dates back to at least 1750, when there was a ferry used to cross the Spey. In 1814, the ferry was replaced by the spectacular single span Craigellachie Bridge built by Thomas Telford. The award-winning Speyside Cooperage Visitor Centre, The Craigellachie Hotel of Speyside and both the Craigellachie and The Macallan distilleries can also be in this quaint village.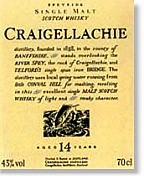 The Craigellachie distillery was founded in 1891 by Craigellachie-Glenlivet Distillery Co. Ltd. - a group of blenders and merchants led by Alexander Edward and Sir Peter Mackie. When Edwards retired, he left sole ownership to Mackie. Peter Mackie - also known as "Restless Peter" was a determined and energetic entrepreneur who was responsible for the creation of the famous White Horse blend. Craigellachie distillery, often referred to as the White Horse distillery, has long been associated the blend and stayed connected to it until it was sold to John Dewar & Sons, Ltd. (owned by Diageo). In 1998, Diageo sold Dewars to Bacardi Ltd. Bacardi have since released a 14 year old and 21 year old cask strength.

Craigellachie is pronounced "Craig-ella-ki" (short "i"). Michael Jackson's descripiton of Craigellachie's house style: Sweet, malty-nutty, fruity. After dinner.



CRAIGELLACHIE 14 YEAR SPEYSIDE SINGLE MALT WHISKY
Nose & Palate: Possessing a fragrant, light and smoky nose that develops into a hint of a sweet, syrupy palate.

Finish: Craigellachie finishes beautifully with a warming, malty and lightly smoked afterglow, influenced by 14 long years in oak.


Tasting Notes Courtesy of Craigellachie
Craigellachie Distillery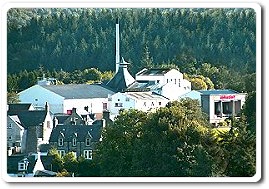 The site of Craigellachie distillery, built in 1891 was in a great location. Not only was it close to both the Fiddich and Spey rivers, it was close to the railway. The waters from the Fiddich provided cooling water and power. The source of water is from a spring on the nearby hill of Little Conval and collected in the large Blue Hill dam which is up to 40 feet deep. It's no wonder there's never a water shortage at Craigellachie!

In 1965, the distillery was updated and a new still house was built along with two additional stills. It has eight wooden washbacks and delivers 47,000 litres AV of spirit per week. Most of what you see today was built during this renovation except for the maltings which is the only building remaining from the original distillery.

Distillery Tours are not normally available, however tours for small parties (no more than 4) are sometimes possible. The tour must be booked in advance, and unfortunately still cannot be guaranteed if there is a pressing matter within the distillery. Please call: +44 01340 872971