Dailuaine Single Malt Scotch Whisky
Carron, Aberlour
Banffshire AB38 7RE Scotland
Tel: +44 (0)1340 810361 / Fax: +44 (0)1340 810510
Viewer's Comments about Dailuaine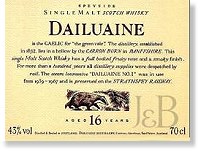 Dailuaine distillery which can be found between the mountain Ben Rinnes (The Ben) and the river Spey at the village of Carron, was founded by William Mackenzie in 1852. Dailuaine, pronounced "Dal-oo-ayn", means 'green vale' and it ever so accurately describes its verdant surroundings.

The distillery's ideal location was likely no accident - the water from Bailliemullich Burn was of good quality, there was a local supply of barley and it was close to the Great North of Scotland Railway line. Dailuaine even had its own station and workers, raw materials and the finished product were transported by rail for a century until the demise of the railway. The distillery's own 'pug' steam locomotive has been restored and is on display at the Aberfeldy distillery.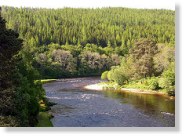 While the line no longer exists today, the route which is called the Speyside Way, has been preserved for walkers and travelers and travels from Tomintoul to the sea.

The whiskies produced at Dailuaine as well as the nearby Cardhu distillery are the major components of the Johnnie Walker blends. Only 2% of the product is marketed as single malt (sold by UDV in the Fauna & Flora collection or by Gordon & MacPhail) and, the rest is used in the blends. When its production capacity is considered, Dailuaine distillery is one of the largest distilleries in Diageo's portfolio. The distillery produces a full-bodied, tasty Speyside spirit.



DAILUAINE 16 YEAR FLORA & FAUNA CHOICE SINGLE MALT SCOTCH WHISKY
Bottling Note:
A Flora and Fauna official release from the Dailuaine distillery, a 16 year old single malt which has been sherry matured for thick fruitcake notes with winter spice, a great digestive.
Dailuaine 16 Tasting Notes

Nose:
Cereals, barley sugars, sherry. Fruitcake, oily, nutty.
Palate:
Medium body, clean. Malt, estery fruit. Sherry. Nutty.
Finish:
Nutty, almonds, oily, smoke, oak.
~Tasting Notes Courtesy of Master of Malt
Dailuaine Distillery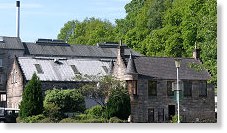 Local farmer William Mackenzie founded Dailuaine in 1852. After he passed away in 1879, the distillery was passed on to his son Thomas, who formed Mackenzie & Co. with James Fleming.

When Mackenzie's son assumed ownership, he set forth plans to rebuild Dailuaine in a larger, more modern style and the distillery was renamed Dailuaine-Glenlivet Distillery Ltd. After a few years of rapid growth and an annual output of 160,000 gallons, Dailuane became the largest distiller of Higland Malt. It was also the first distillery to exhibit the pagoda roof design.

In 1898, the distillery merged with Talisker and was renamed Dailuaine-Talisker Distilleries Co Ltd. Thomas died in 1915 and since he had no family to fill his shoes, a group of Dailuaine customers which included James Buchanan, John Dewar and John Walker took over. In 1925, Dailuane became part of Distillers Company Limited (DCL), although it was run by Scottish Malt Distillers (SMD) for decades. In 1998 Diageo bought out DCL.

Dailuaine had been rebuilt several times throughout its active history. In 1917, fire destroyed the distillery and production was halted for three years. After yet another fire in 1960, it went through a major modernization. Dailuane was expanded from four to six stills and it was one of the few distilleries to replace its floor maltings with Saladin Boxes. A Dark Grains plant was built to process pot ale and draff into high protein cattle feed.

Dailuaine does not utilize their old granite double-storey dunnage cask warehouses, therefore, all production is sent in tankers to be filled into casks at a central warehousing complex. In addition, after 1983, the distillery no longer carried out its own malting.

Dailuaine distillery does not have a visitor centre.