Aberfeldy Distillery
Aberlfeldy, Perthshire, PH15 2EB Scotland
Tel: +44 (0)1887 822010 / Fax: +44 (0)1887 822012
Viewer's Comments about Aberfeldy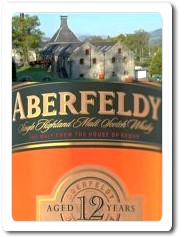 DEWAR'S origins date to the mid-19th century. Founder John Dewar was born in 1805 in the small village of Dull, near Aberfeldy, Scotland, where he grew up on a farm. After an apprenticeship as a joiner, he moved in his early 20s to Perth, where he began working for his uncle's wine and spirits wholesaling firm. He became a partner in 1837, but in 1846 decided to go into business on his own and began blending whisky from several different producers to give it a mellower flavor. Dewar was one of the first to sell his beverage in a glass bottle with the brand name embossed on the front, rather than in a ceramic container.

John Dewar Senior passed away in 1880 and was succeeded by his sons John Alexander and Tommy. It was Tommy who made the name of Dewar known world wide. He was an extrovert and showman whose escapades were not appreciated by his competitors, but by 1894 his enterprise had established 32 agents in no fewer than 26 countries. By this time, the firm had built a new headquarters next to the railway station in Perth from which a private siding led to their premises. Accordingly, Aberfeldy Distillery was also built next to the railway.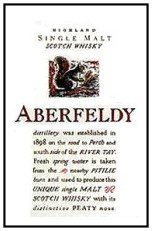 Built by the Dewar family in 1898 on the edge of Highland Perthshire, Aberfeldy Distillery produces a fine and sophisticated Highland single malt Scotch whisky. Reserved for years as the heart of DEWAR'S blends, limited quantities of Aberfeldy single malt whisky are now available.

DEWAR'S celebrated its 160th anniversary in 2006. And, today, the Company owns five distilleries: Aberfeldy, Craigellachie, Brackla, Aultmore and MacDuff. All produce whisky for DEWAR's blends, as well as limited-edition single malt scotches.

More than a century and a half after its namesake began blending whisky in Perth, Scotland, John Dewar & Sons, Ltd. continued to produce fine distilled beverages. The firm's flagship brand, DEWAR'S White Label, was the best-selling whisky in the United States and also popular in other countries around the world. With the backing and distribution muscle of new owner Bacardi, the company appeared well-positioned for many more years of success.
Colour:

Warm gold

Nose: Almost incense-like, heather honey with a fruity softness, notes of pineapple, toast and cereal

Palate: Syrupy, lingering on the tongue like a liqueur.

Body: Full bodied

Finish: Full flavour, the perfume characteristics become more spicy, with a bitter hint of Seville oranges in a decidedly dry finish

.

Colour: Deep gold with amber highlights

Nose: A pleasing aroma of heathery honey, followed by a fruity softness, hints of vanilla and burnt wood.

Palate: Full flavoured with touches of Seville oranges lingering on the tongue like a good liqueur.

Body: Full bodied

Finish: Long, spicy with a decidedly dry finish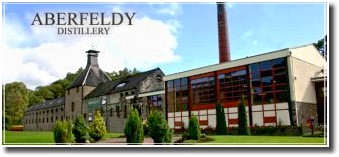 DEWAR'S had traditionally purchased whisky for its blends from other producers, but in 1898 the company opened a distillery of its own in the small village of Aberfeldy. John A. Dewar sees that, to meet growing demand, the firm must be able to guarantee the supply of a superior quality Highland malt whisky for use in the Company's blends. Aberfeldy is designed from the ground up as a model distillery. It relies upon a water source, the Pitilie Burn, which has been used for distilling for centuries. The Distillery is linked by railway to the Company's Perth headquarters.

Soon after the opening of Aberfeldy Distillery, the company introduced Dewar's White Label Scotch. Hand crafted by DEWAR'S first Master Blender, over one hundred years ago, DEWAR'S White Label is a blended Scotch Whisky of unusual subtlety and refinement. Up to 40 of the finest malt and grain Scotch whiskies are blended together in perfect harmony, to create this time honoured blend. Our Aberfeldy single Highland malt, with notes of Scottish heather and honey, is placed at its heart to ensure this whisky is smooth and perfectly balanced. It is no surprise to learn that this is the number 1 selling Scotch whisky in the USA today.

In the spring of 2000 the firm opened a new £2 million visitor's centre at the Aberfeldy Distillery. Dubbed Dewar's World of Whisky, it would play host to some 30,000 visitors per year.

HOURS

Winter (1st November - 31st March)
From 1st November until 31st March, DEWAR'S World of Whisky is open Monday to Saturday from 10am until 4pm (last admission 1 hour before closing).

Please note that the World of Whisky will be closed during Christmas and New Year.

Summer (1st April - 31st October)
Monday to Saturday 10am to 6pm
Sunday 12 noon to 4pm
(Last admission one hour prior to closing)

Please allow one and a half hours for your visit.

Silent Season
The month of October/November is usually our annual maintenance period. Traditionally known as the 'Silent Season', during this time the distillery tour may be unavailable, however the Brand Centre, Brand Store and coffee shop will remain open. Please call if you require further advice.

Includes Brand Centre and Distillery tours, plus whisky tasting for adults.

ADMISSION CHARGES

Standard Tour: Includes heritage exhibition, distillery tour, whisky tasting (adults only!).

Adults: £6.50

OAP, Concessions: £5.00

Under 18s: £4.00 (7 and under free.)

Family Ticket: £18.00 (2 adults and 2 under 18s)

Deluxe Tour: £18
As above, with enhanced whisky tasting and complimentary nosing glass.

Signature Tour: £30
Our premium whisky experience. Taste the Aberfeldy Highland Single Malt direct from the cask - and savour Dewar's Signature, one of the world's most exclusive whiskies.

Group Tours (12 or more)
Please contact the Brand Centre to discuss your personal group requirement. Group discount for parties of 12 or more are available with advance reservation. Please call at least 24 hours ahead of time.

Free nature trail. Free parking for cars and pre-booked coaches.

TRAVEL DIRECTIONS

From Edinburgh
The drive is about one and a half hours. Leaving Edinburgh, cross the Forth Road Bridge. Join the M90 motorway and then the A9 Perth-to-Inverness trunk road. Leave the A9 at Ballinluig and follow the A827 alongside the River Tay to Aberfeldy. DEWAR'S World of Whisky is on your left, just before you get into the town, at Aberfeldy Distillery.

From Glasgow
The drive takes roughly one and a half hours. Leave Glasgow on the M80 (A80) signposted for Stirling. At Junction 9, join the M9 and then the A9 northbound. Stay on the A9, past Gleneagles, famous among golfers, to Perth. Stay on the A9 going north to Ballinluig. Follow the A827 along the River Tay to Aberfeldy. DEWAR'S World of Whisky is on your left, before you enter the town.

From The North
Following the A9 south, leave at Ballinluig and follow the A827 alongside the River Tay to Aberfeldy. DEWAR'S World of Whisky is on your left, just before you get into the town, at Aberfeldy Distillery.

Contact Us
Aberfeldy Distillery
Aberlfeldy, Perthshire,
PH15 2EB Scotland
Tel: +44 (0)1887 822010
Fax: +44 (0)1887 822012
E-mail: Dewars World of Whisky

Do not drink and drive.