Glen Spey Single Malt Scotch Whisky
Rothes, Aberdeenshire
AB38 7AU Scotland
Tel: +44 (0)1340 832 000
Viewer's Comments about Glen Spey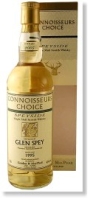 In 1885 Glen Spey-Glenlivet Distillery was built and put into production by James Stuart, Esq.. Prior to this, the site was known as the Mills of Rothes, and, as James Stuart is initially described as both Corn Merchant and Distillery, it would appear that the site exercised two separate functions. In 1887 the distillery was purchased by W & A Gilbey Ltd., of London. Gilbey also purchased Strathmill and Knockando distilleries.



In 1962, the company Gilbey became International Distillers & Vintners (IDV) after a long collaboration with United Wine Traders. Glen Spey was taken over in 1972 by Grand Metropolitan which became part of UDV which is known today as Diageo.

Glen Spey is a key contributor to J&B Rare - which is the most popular Scotch whisky in Europe and the number two Scotch in the world. Glen Spey also contributes other blends like Spey Royal and the vatted malt Stathspey. Glen Spey Single Malts are very limited.

"Glen Spey is a light-bodied, elegant malt with floral, exotic aromas and a silky, dry finish." Gordon Brown



GLEN SPEY 12 YEAR OLD SINGLE MALT SCOTCH WHISKY
Nose: Expressive, grassy. Dry hay. Huge puff of black pepper followed by sweeter notes. Cider apples cooked in honey. Beeswax. Touch of cedar.

Palate: Round, oily, sweet and malty. Toasted nuts. Stewed apples. Less spicy than the nose. Good balance.

Finish: A bit evanescent but enjoyable.

Comment: Definitely Speyside. Elegant interplay between fruit and malt.
Tasting Notes by Martine Nouet
Glen Spey Whisky Distillery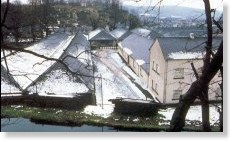 The Glen Spey Distillery sits just below Castle of Rothes - the ancient seat of the noble family of Leslies, Earls of Rothes. The distilelry had a modern maturation warehouse, which comprised 10,000 square feet of storage area roofed with two arched corrugated iron spans. In January of 1892, an exceptionally heavy fall of snow caused the roof to fall in and an even greater misfortune occurred in May of 1920 when a major part of the distillery was burned to the ground with only the still house and warehouses escaping the fire.

Glen Spey was reconstructed and erected the new premises on a completely new plan, avoiding congestion so evident at other distilleries, and, establishing an ultra-efficient arrangement of buildings, machinery and apparatus linking the various processes in one simple and coherent system.

In 1969, Glen Spey was completely reconstructed again and the annual production capacity doubled. The number of stills was doubled and the malting floors transformed in warehouses.

The water source is from the Doonie Burn. The Glen Spey does not have a visitor centre, but may offer tours. Please call +44 (0)1340 832 000 for more information.