The GlenDronach Single Malt Scotch Whisky
Forgue, by Huntly
Aberdeenshire AB54 6DB Scotland
Tel: +44 (0)1466 730 202 / Fax: +44(0)1466 730 313
Viewer's Comments about The Glendromach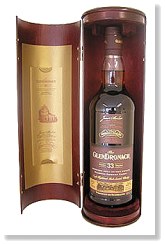 When GlenDronach opened its doors in 1826, many Scottish single malts were matured in Spanish sherry casks. However over the years the ever-increasing rarity and price (they are over 10 times as expensive as 'standard' barrels!) has seen a major switch to American Bourbon barrels by the whisky industry. Indeed today there are perhaps only 2 distilleries that can truly be classified as 'sherry maturation' houses and only one where 100% of the single malt sold still enjoys its primary maturation exclusively in sherry casks. We are proud to be that distillery.

Even today if you were to wander around our distillery you would be transported back into the great Victorian era of whisky production. Walk along the line of Oregon pine washbacks fermenting away and smell the damp air in the original stone dunnage maturation warehouses as you walk past line upon line of Spanish Oloroso butts quietly giving up their 'share' to the angels. Our coal fired furnaces are no longer in operation due to health and safety rules, however, the GlenDronach Distillery was the last distillery in Scotland to use them.

As you cross the Dronach burn back to the old manor house, you are walking in the footsteps of James Allardice himself, our founder and mentor. He coined the phrase 'The guid GlenDronach' and was a stickler for tradition. 170 years on we see no reason to doubt his wisdom or his words.

Our primary expression of the GlenDronach® is a 12 year old. It is of course matured in sherry casks for 12 years but then 'finished' in American oak. This has the effect of marrying the sherry notes with the creamy vanilla tones that American oak offers. It is a beautifully smooth Highland whisky – as you would expect from one of the original 'grand distilleries' of the early 1800s. It was in fact the highest duty paying distillery in Highlands in the 1860s.

Does this mean we have turned our back on our founder and 100% sherry-matured malts? Of course not! However today it is increasingly a style appreciated by real connoisseurs of whisky. Producing top quality, sherry-matured whisky is a true distiller's art. If the raw spirit does not have the right balance of flavours then the finished product will end up dominated by the sweetness imparted by the sherry butts. GlenDronach are the experts in this tricky balancing act.

In one respect however, we are no different to all other distilleries – in distilling there is always 'the unknown'. From time to time a batch of whisky is produced that for some unexplained reason is 'special' we put these casks to one side and allow them to mature further until we believe they have reached their level of perfection. In our experience top quality, sherry matured whisky requires a far longer maturation period compared to conventional malts. In some cases it is just a few more years. Others require longer. Many people still talk wistfully about our last limited release the 25 year old expression, now sadly all gone.

However...Sitting in a corner of our traditional stone maturation house was an even older batch. Only now has the time been deemed right to awaken the whisky from its long sleep and bottle it. How long has it been sleeping? Thirty three long years!

We believe that 'The 33' is the finest expression of GlenDronach ever made. The sherry butts have imparted their luscious flavour which is perfectly counter balanced by the classic fruitiness of the GlenDronach spirit. The finish is long as you would expect, with that trademark hint of peat smoke that our kilns imparted all those years ago.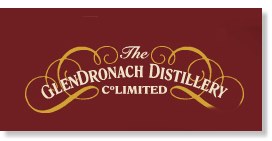 To celebrate 'The 33' we have specially commissioned a circular wood enclosure, hand made with a hand finished lacquer exterior, with a colour that matches the deep red hue of its precious contents.

The GlenDronach Distillery was acquired by Chivas Brothers by the Larbert-based BenRiach Distillery Company in August 2008.


Courtesy of The GlenDronach Distillery



THE GlenDronach 12 YEAR SINGLE MALT SCOTCH WHISKY
Double matured - first in sherry casks, then for a final period in first fill American oak - This has the effect of marrying the sherry notes with the creamy vanilla tones that American oak offers.

The 12 Year Old GlenDronach is a perfectly balanced, smooth, creamy, full-bodied single malt scotch whisky.

Appearance
Deep amber-red gold.
Nose
Sweet, creamy vanilla, with hints of ginger. Spiced mulled wine and pear.
Palate
Rich, creamy, silky-smooth. Warm, rich oak and sherry sweetness, full mouth feel, raisins and soft fruits. Spicy with medium length and a dry finish.
Conclusions
Long, full and firm, slightly nutty.



THE GlenDronach 15 YEAR REVIVAL SINGLE MALT SCOTCH WHISKY
Renowned amongst many whisky enthusiasts around the world, this remarkable and full bodied malt is matured for a minimum of 15 years in the finest Oloroso sherry casks. Bottled at 46%, the GlenDronach Revival is non chill filtered and of natural colour. A truly excellent single malt.

Expression
Revival - 15 Year Old
Appearance
Deep gold with a lovely mahogony heart.
Nose
Incredible concentration of aromas. Treacle toffee and chocolate orange.
Palate
A very dynamic and full bodied dram for its age. Chewy with coffee chocolate and treacle scones.
Conclusions
A veritable feast to enliven the senses.



THE GlenDronach 18 YEAR ALLARDICE SINGLE MALT SCOTCH WHISKY
The famous GlenDronach 18 year old, now renamed Allardice, is the third expression in the GlenDronach core range. This exceptional single sherried malt is non chill filtered and of natural colour. Matured in the finest Spanish Oloroso sherry casks and bottled at 46%, this sublime richly sherried malt is truly unforgettable.

Appearance
Bright deep gold with a tawny centre.
Nose
Sweet aromatics of fudge and muscovado sugar. Fruit compote and glacier morello cherries provide added complexity.
Palate
Rich dark and seductive. Remarkable flavours of stewed fruits and all-spice marry together with classical aged Oloroso and toasted walnut bread and chocolate orange.
Conclusions
Tremendously complex and long.



THE GlenDronach 33 YEAR SINGLE MALT SCOTCH WHISKY
The GlenDronach 33 year old is regarded by many as one of the distilleries greatest releases. Matured in the finest Spanish Oloroso sherry casks, this exquisite malt scored 88/100 in the 2008 malt maniac awards and was described by Jim Murray as a 'Golden nugget of a dram'. This sublime whisky is not to be missed.

Appearance
Rich mahogany with a distinctive tawny heart. Viscous and syrupy.
Nose
Pronounced and sweet. Huge and aromatic with a combination of sweet stewed fruits, nuts and chocolate fondant. Alluring.
Palate
This displays real elegance and exudes class. A myriad of spiced fruits drizzled in bitter chocolate sauce. This fronts a second wave of flavours including walnut cake and mocha. Rich and unctuous to the core. An alcoholic liquid dessert.
Conclusions
A masterful dram which pleases the most jaded of palates. Fantastic stuff!

All Tasting Notes Courtesy of The GlenDronach
The GlenDronach Whisky Distillery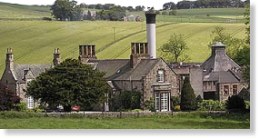 GlenDronach's founder, James Allardes, was a frequent guest of the 5th Duke of Gordon who was largely responsible for the Excise Act of 1823 which was instrumental in creating the modern malt whisky industry. The GlenDronach Distillery has had various owners over the years, including Captain Charles Grant, younger son of William Grant of Glenfiddich farne, who purchased it from the Crown in 1920. It remained in that branch of the Grant family until 1960, when George Grey Grant sold
it to Wm Teacher & Sons Ltd. GlenDronach is currently owned by Pernod-Ricard. They had acquired it from Allied Domecq in partnership with Fortune Brands.

The Distillery is situated straddling the Dronach Burn in the valley of Forgue, which supplies the cooling water. It is nestled within tall trees where an established colony of rooks is said to bring luck.

In 1966 & 1967, GlenDronach was extended from two stills to four.

Distilling was undoubtedly carried out in the area in the days before legal distilling came to GlenDronach and the noisy rooks would have proved a useful ally to warn of approaching strangers - especially excise officers. Built in the form of a square and covering four acres, GlenDronach is one of the few distilleries where barley is still malted on a malting floor, providing about 15% of the distillery's requirement. It also has coal-fired stills. GlenDronach is one of the most important constituents of Teacher's Highland Cream Scotch whisky.

Visitor Centre
There are guided tours of the distillery - daily at 10.00am, 11.00am, 1.00pm, 2.00pm and 3.00pm. They cost just £3 and all visitors receive a dram of the GlenDronach twelve-year-old at the end. Note: After suffering two damaging floods in 2009, the new GlenDronach Distillery Visitor Centre at Forgue reopened Easter weekend 2010.

Group Bookings
Maximum of 50 people by appointment
Contact Us
The GlenDronach Distillery
Forgue, by Huntly
Aberdeenshire AB54 6DB Scotland
Distillery Office +44 (0)1466 730202
Email: GlenDronach Distillery
Courtesy of The GlenDronach Distillery