Glenglassaugh Single Malt Scotch Whisky
Glenglassaugh Distillery Portsoy
Banffshire Scotland AD45 2SQ
Tel: +44 1261 842 367
Viewer's Comments about Glenglassaugh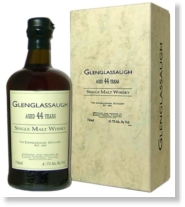 The Glenglassaugh Distillery was founded in 1875 by general store owner, James Moir who was in need of a whisky supplier. Not only would Moir benefit from this distillery, but due to the need for barley, local farmers would benefit as well. Glenglassaugh Distillery is situated between the Spey and Deveron River and near the fishing village of Portsoy. The views seen from the distillery of Scotland's Moray Firth is fabulous.

Glenglassaugh was purchased by Robertson and Baxter for £10,000 in 1892 and was then sold to Highland Distillers the same year for a £5000 profit. The Robertson family was responsible for the founding of Highland Distillers back in 1887 and in 1999, Edrington acquired Highland along with its powerful brands The Famous Grouse, The Macallan and Highland Park. Glenglassaugh, which was always in demand by blenders, was a big contributor to these powerful brands as well as to Cutty Sark and Lang's.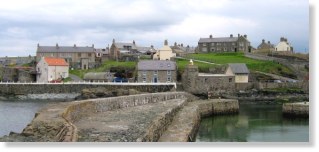 Portsoy Fishing Village

Glenglassaugh was seldom released as a single malt although Highland Distillers did occasionally release it to foreign markets. Each Glenglassaugh bottling can offer unique aromas and flavours which include citrus, fruit, liquorice and florals. The vintages from 1960 and 1961 have a consistent sweet and salty distinctive taste. The result is a balance of a clear coastal taste and a suggested flavor of sweetness.

The Glenglassaugh Distillery was mothballed in 1986. Since Glenglassaugh single malts were not widely available, the have become more rare and exclusive.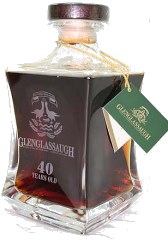 A powerful whisky, reminiscent of the finest rich fruit cake with a medley of fruits and spices. Natural cask strength, non-chillfiltered, no colour added and bottled on site at Glenglassaugh distillery.

Tasting Notes:

Colour: Deep mahogany.

Nose: Citrus and oak dominate the nose but there is so much more: fruity notes of fat cherries, over-ripe yams, grapes, floral notes and sweet vanilla. There is molasses and hickory notes too.

Palate: It is silky, deep, rich and mellow in the mouth with loads of marmalade, juicy dates, burnt raisins, smooth bitter chocolate and Jamaican Blue Mountain coffee notes, mocha too. There's a whiff of peat and fine, delicate smoke.

Finish: A long, fine, firm finish.

Glenglassaugh 40 Year Old Highland Single Malt Scotch Whisky, awarded 96 points and "Best 35 to 40 Year Old Single Malt Scotch Whisky" Jim Murray's 2010 Whisky Bible

Age: over 40 years old
Volume: 70cl
Strength: 44.6% abv

Tastings Notes Courtesy of Glenglassaugh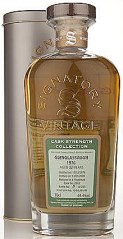 Bottling Note:
This is a very well aged Glenglassaugh. Distilled on the 17th December 1976 and matured for 32 years in hogshead number 2382 before bottling on the 13th January 2009 by Signatory. A release of just 265 bottles.
Glenglassaugh Whisky Distillery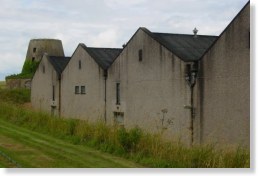 The Glenglassie Distillery which was founded in 1875 produced a seaside malt. It was closed from 1907 until 1931 and then again from 1936 until 1959. Although whisky production ceased, barley was still malted at Glenglassaugh for use at other distilleries owned by Highland Distillers. In 1960, Glenglassive was rebuilt and doubled the size of its stills - which doubled production. Two washbacks were also added

The peat used by the distillery was found locally and the barley was grown on an 80 acre nearby farm - which was owned by Glenglassaugh. The water source for distillation has always been from the River Glassaguh and for a long, the distillery utilized the fast flow of this river for power.

The Glenglassaugh buildings are functional and unremarkable in appearance, yet this distillery has been closed since 1986. It does not appear it will open any time in the near future. Glenglassaugh does not offer a visitor centre.