Glentauchers Single Malt Scotch Whisky
Mulben, Keith, Banffshire
AB55 6YL Scotland
Tel: +44 (0)1542 860272
Fax: +44 (0)1542 860327
Viewer's Comments about Glentauchers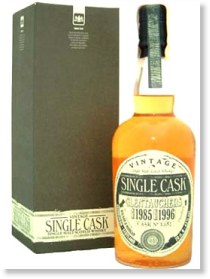 The construction of the Glentauchers Distillery started in May of 1897 and within one year, it was completed and fully equipped. Glentauchers, just three miles from Keith and on the road to Craigellachie Distillery, is situated on the edge of the Craigellachie Forest. The buildings which were designed by architect John Alcock from Keith were described as "substantial and commodious" by the Banffshire Herald.

The Glentaucher Distillery Co. was started by London whisky merchant James Buchanan and stockholder W.P. Lowrie of Glasgow. Buchanan's first brand was Buchanan Blend - which eventually became known as the world-famous Black & White. In order to sell his own brand, he set up his own company in 1884 which was financed by Lowrie. Timing could not have been more perfect as the whisky market was booming. When Glentauchers Distillery opened, Buchanan was a success and part of the 'Big Three' houses which also included Dewar's and Walker's.

James Buchanan was an extraordinary man. He entered into the whisky business without much knowledge and no capitaly. Failing was something that never crossed his mind and he was confident he would eventually become a success. Buchanan stated, " Sometimes I marvel at the supreme self-confidence that upheld me..." Buchanan made many friends with ease and he was an incredible salesman. He dressed for success, he was attractive, tall and slim. Buchanan attributed his success to his ability to understand the mind and the needs of major customers.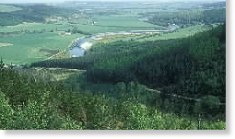 The Craigellachie Forest

When Lowrie passed away, he sold a majority shareholding in his blending and bottling company and a his share in Glentauchers Distiller Co., to Buchanan. In 1925, James Buchanan & Co. along with other major Scotch whisky blenders merged with Distillers Company Limited (DCL). The Glentauchers Distillery was then passed to the DCL subsidiary, Scottish Malt Distillers, Ltd. DCL was later acquired by Guinness, forming United Distillers, which became part of Diageo. Glentauchers is now owned by Pernod Ricard.

Glentaucher is a key component to Ballantine's and Teacher's Highland Cream.

Courtesy of Diageo Scotland