Linkwood Single Malt Scotch Whisky
Linkwood Distillery
Elgin, Highland, IV30 3RD Scotland
Tel: +44 (0)1343 553 800
Viewer's Comments about Linkwood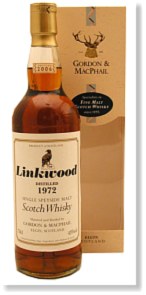 The Linkwood Distillery is situated in a secluded leafy corner of the Highlands on the banks of a pretty dam and amongst a thriving wildlife population. Swans have been associated with Linkwood for at least two centauries and the dam is home to ducks, heron, water hen and shags. Dippers feed in the Linkwood Burn and otters, wild mink and red squirrels play nearby.

This tranquil setting has been home to a succession of remarkable men who have dedicated themselves to Linkwood's golden spirit, and whose lives have woven the distillery's rich and intriguing history.

Linkwood Distillery was built in 1821 by Peter Brown, a factor of the Seafield estates in Moray and Banffshire and a man of much influence and forceful character. He was also one of the foremost agricultural improvers in the northern counties. The purpose of the Distillery was to extend the productivity of Brown's land and provide the final link in the agrarian cycle. Barley grown on the estates was used in whisky making and the by-product from the distillery, known as draff, was used as feed to fatten the cattle.

Customs and Excise records show that Peter Brown started distilling at Linkwood in 1825 and was soon producing more than 1,000 gallons (4,500 liters) a year from two stills.

Peter Brown died in 1869 and the distillery was operated for the next 35 years by his son, William Brown, who erected spacious new premises in 1872-73.

In 1874, a local journal recorded that nothing had been left undone "that could add to the convenience, durability, or appearance of the establishment" and the quality of the whisky being produced was "quite equal in flavour and in every other respect" to that which gave Linkwood its early reputation. William also expanded the distillery's capacity to 50,000 gallons (227,000 liters) a year, founding an extremely successful business which weathered a slump in demand for whisky during the mid-1880s.

In 1897, four years after William Brown's death, the Linkwood-Glenlivet Distillery Company was floated and the premises were further extended. As a result, production capacity doubled. Linkwood whisky had always been a great favourite in Speyside, but now it began to fetch a good price in the markets in the south.

In 1902, the second of the remarkable men in Linkwood's history, Innes Cameron, an Elgin whisky broker, joined the board. He was e managing director for many years and when he died in 1932, he was the largest shareholder. Linkwood's success during those years was later attributed to Innes Cameron's knowledge of the whisky trade. Following his death, the company was sold to Scottish Malt Distillers Ltd., which later became part of United Distillers. Today Linkwood is owned by the spirits conglomerate Diageo.

Linkwood, along with most other malt whisky distilleries, closed during the Second World War because of restrictions on the supply of barley. When the distillery reopened in 1945, another remarkable man, Roderick Mackenzie, became manager and his influence during the next 18 years ensured that Linkwood's authentic character was retained. He believed the character of a malt whisky was a complex relationship - not just of the vessels in which it is made - but of everything in the immediate environment. Mackenzie even refused to allow new employees to remove cobwebs in the distillery!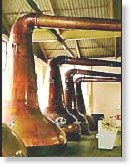 In 1962 when it became essential to rebuild the distillery and install new stills, Mackenzie insisted that, according to custom, the new stills were exact replicas of those they replaced. He started up the new distillery just before he retired in 1963.

Demand for Linkwood's "elegant and complex Speyside classic" whisky continued to grow and in 1971, an additional distillery was commissioned to satisfy the demand by blending companies for Linkwood malt whisky.

Linkwood Distillery produces a single malt whisky used for blending. Actually, just only 1 or 2% of the production is marketed as single malt while the remaining is used in blends within the Diageo portfolio such as Haig, Bells and Dimple and Johnnie Walker.
Courtesy of Diageo Scotland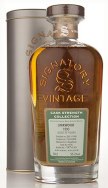 LINKWOOD 17 YEAR 1990 CASK STRENGTH COLLECTION by SIGNATORY
Linkwood 1990 Bottling Note
Distilled at Linkwood on the 26th November 1990, matured for 17 years in hogshead number 9726 before bottling on the 15th October 2008, a single cask release of just 262 bottles, bottled by Signatory.




LINKWOOD 18 YEAR 1991 SINGLE MALT SCOTCH WHISKY
A Bladnoch Forum Bottle
Linkwood 18 (Bladnoch) Bottling Note
This single cask Linkwood was distilled on the 16th September 1991 and aged for 18 years in hogshead number 10346 before bottling on the 26th May 2010 for the Bladnoch forum. A release of 252 numbered bottles at cask strength. A Bladnoch Forum Bottle.
Linkwood Distillery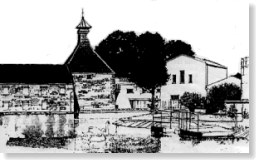 The Linkwood Distillery is a complex of modern distillery buildings and old warehouses. It still has an air, proper to Highland malt distilleries, of having been there a long time. The trees that shelter it from the north wind and screen it from Dunkinty House are the successors of those planted and maintained by Peter Brown and his father, George. The description of the dam as "an exceedingly pretty sheet of water" is still appropriate. Swans drift on the surface with disdainful ease; but like the dam, they are there for a practical purpose. The original pair was brought here from Gordon Castle, long ago, to keep down the weeds.

The dam holds cooling water from the Burn of Linkwood. Other cooling water is piped from the Burn of Bogs and process water comes from springs near Milbuies Loch. A steam engine, supplemented by a water wheel, drove all machinery until replaced by electric power in 1962-63. During this time, the distillery was carefully rebuilt with new stills added. Manager Roderick Mackenzie ensured that any changes made in no way effected Linkwood's authentic character.

A second distillery was added in 1971 which included four stills. In 1985, the old distillery was mothballed, however, five years later in 1990, it was reopened and operates a few months each year.
The Linkwood Distillery does not have a visitor centre.
Courtesy of Diageo Scotland