Glenlossie Single Malt Scotch Whisky
Glenlossie Distillery
Elgin Morayshire IV30 3SS Scotland
Tel: +44 (0)1343 860331 / Fax: +44 (0)1343 860302
Viewer's Comments about Glenlossie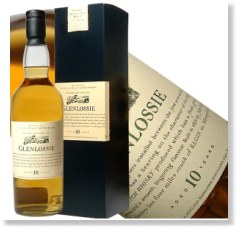 Glenlossie Distillery was establishsed in 1876 by John Duff, tenant of the Fife Arms, Lhanbryde, Morayshire. Duff who worked several years as a manger at the Glendronach Distillery was described by The Aberdeen Journal in 1877 as the "great moving spirit" of the enterprise. The distillery was built in partnership with Duff's friends, H.M.S. Mackay, burgh surveyor and the local procurator fiscal, Alexander Grigor Allan and their business was known as John Duff and Co.

The plan for the distillery was sketched out by John Duff in conjunction with an Elgin architect, A. Marshall Mackenzie. The Aberdeen Journal was favourably impressed by "the adaptation of the buildings to the natural rise and fall of the ground...which will allow the work to be accomplished with a much smaller staff than in a place which has not the same facilities for bringing gravitation into operation". It noted "the abundance of excellent water to make the whisky and drive the machinery, thereby rendering the place independent of steam power". There was a fall of about 70 feet (21 metres) from the large dam which provided the force for a water wheel of 8 horse power to drive the machinery.

Alfred Barnard described Glenlossie in The Whisky Distilleries of the United Kingdom, 1887: "It stands at the foot of a fir-clad hill and consists of a double oblong range of buildings, and with the exception of the Distillery House (which is built of stone) is constructed entirely of cement, which under the sunlight as we descended the hill, looked beautifully white and clean." The cement had been made from sand and gravel carted from the River Lossie.

At the time of Alfred Barnard's visit, John Hopkins & Co. Ltd., Glasgow, blenders of Old Mull and Glengarry Scotch whiskies, were entirely responsible for the sale of the sale of the make, and Hopkins himself was a partner. Annual output was then 90,000 gallons (409,000 litres).

John Duff & Co. was liquidated in 1896 after Allan's death and Duff's departure. It was reformed as the Glenlossie-Glenlivet Distillery Co. Ltd. and floated on capitalisation of 5,000 Ordinary shares of £1 each and 5,000 Preference shares of £10 each. When these were offered for public subscription, applications were received for 12,620 Ordinary and for 23,266 Preference shares. H. M. S. Mackay, now the local agent for the North of Scotland Bank, for the Northern Assurance Co. and the Commercial Union, was the senior director. His co-directors were his nephew, J. H. Hair, who was to be managing director for many years, and A. M. Gregory, formerly of Glen Albyn Distillery, Inverness. Much of Mackay's time was devoted to public affairs, notably as vice-convenor of Moray Country Council.

The Glenlossie-Glenlivet Co. was efficiently managed. The expense of carting incoming supplies and consignments of whisky between the distillery and Longmorn Station, on the railway line that ran from Elgin to Perth via Grantown, ceased to be a burden when a private siding was built in 1896. New warehouses were built and extension or improvements effected in almost every year up to 1917, when all malt whisky distilleries were closed by Government order in the interests of conserving barley for foodstuffs during WWI. Glenlossie started up again in 1919, the year when Scottish Malt Distillers Ltd., a subsidiary of The Distillers Company Limited, obtained a controlling interest in the Glenlivet-Glenlossie Co. That company wound up in 1930 since the distillery had been worked as a unit of SMD. Today, the Glenlossie Distilley is owned by Diageo.

A severe outbreak of fire on 6 March 1929 caused damage to the extent of £6,000. As a result, the distillery ceased operations for the remainder of the season. In common with almost all malt whisky distilleries, Glenlossie closed down for the greater part of the WWII - once again due to government restrictions on the supply of barley for distillation.

As soon as building controls were relaxed, SMD began a programme for increasing distilling and storage capacity on the site of 25 acres (10 hectares). No. 3 warehouse was built in 1955, followed by a Group warehouse erected in three stages which took place in 1960, 1965 and 1975.

Water ceased to be a source of power in 1919, followed by steam in 1960 when all machinery in the distillery was converted to electricity. The same year, the four hand-fired stills were converted to a mechanical stoker system. The stills were increased to six in 1962 and converted from coal heating to steam heating from an oil-fired boiler in 1972.

A characteristic of the process carried out at Glenlossie is the installation of a purifier between the lyne arm and the condenser on each of the three spirit stills. This technique tends to increase the still's rectifying ability and has a bearing on the character of the spirit produced. It is not used at Mannochmore Distillery, which was built on part of the same site in 1971. Both distilleries use the same water supply -- process water from the Bardon Burn, which has its sources in the Mannoch Hills, and cooling water from the Wedlock Burn and the Burn of Foths. However, they are separate distilleries and each work alternately to produce two distinctive Speyside malt whiskies. Mannochmore is equipped with three wash stills and three spirit stills, heated by steam.

A plant for the production of dark grains, a high-protein animal feedingstuff, from the solid matter left over from the mashing and distillation processes, was built in 1969 and doubled in size when Mannochmore Distillery was built.

Scottish Malt Distillers Ltd. owns 21 houses which is occupied by employees at both distilleries. SMD also owns and manages Glenlossie Farm, Easterton Farm and Wardend Farm. These farms which occupy an area of about 500 acres (202 hectares) produces barley, turnips and beef cattle.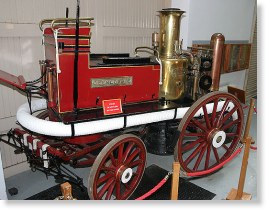 The Glenlossie Fire Engine 1862
Glenlossie Distillery houses a Shand Mason & Co. fire engine made in 1862. The same year, it won a prize in the International Exhibition held at the Crystal Palace. It was pulled by a pair of horses and could raise steam in about five minutes. The last time this engine was used was for the fire of 1929.

Whisky from the Glenlossie Distillery is highly prized by blenders and is consequently extremely rare to find as a single malt. Its single malt is rarely bottled (only 0,5% of the production is marketed as single malt) and it can be purchased at independent bottlers such as Berry Bros & Rudd and Gordon and MacPhail.

The Glenlossie Distillery produces a lighter, more delicate whisky. Michael Jackson describes its house style as "flowery, clean, grassy, malty. Aperitif."
Courtesy of Diageo Scotland
Nose:

The nose is elegant and rather redolent of a Lowland malt, showing notes of freshly cut-grass, white flowers and citrus notes.



Palate:

On the palate, the hints of tangerine and ripe pineapple fruit are dominant, on a background of spices and honey.



Tastings Notes by Berry Bros & Rudd

Nose:

Sweet with floral aromas. Some spicy notes with a rich, dried fruit element.



Palate:

Sweet, smoky with a very rich mulled fruits and dark chocolate element. Drying out with sherry oak tones.



Nose:

Fragrant - lavender and rose scent. Sherry wood with hints of nuts and chocolate.



Palate:

Smoky, sweet chocolate notes with rich fruits - raisins and sultanas. Again drying with spicy and oak flavours.



Finish:

Dried fruit, slightly smoky.

Tasting Notes by Gordon & MacPhail
The Glenlossie Distillery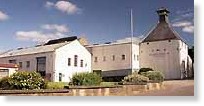 Nestling in the fertile Laich of Moray and only two miles from Milbuies nature reserve, the hills and farmland surrounding Glenlossie and the Mannochmore distilleries are rich in wildlife, including the long-eared owl and the great spotted woodpecker which have been adopted as the symbols of the distilleries.

Glenlossie was built in 1876 by John Duff and his partners H.M.S. Mackay and Alexander Grigor Allan. A warehouse was added in 1955 and additional ones in 1960, 1965 and 1975. In 1962 the stills were increased from four to six and in 1963, new larch were washbacks installed. The stills were converted to steam heating by oil fired boilers in 1972. The current annual output is 2.2 million litres of alcohol.

The Glenlossie Distillery is operational however, it does not have a visitor center.
Courtesy of Diageo Scotland