Single Malt Scotch Whisky


Whisky.com's Top 5 Speyside Malts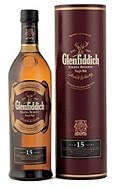 Glenfiddich 15 Year Old Solera Reserve
The Glenfiddich Solera system is unique amongst Scotch whisky distillers. Fifteen-year-old Glenfiddich from three types of casks – traditional American bourbon, Spanish sherry and new oak – is married in a large Solera vat, made of Oregon pine. The vat is always kept at least half full, ensuring a consistent quality of whisky is maintained whenever it is topped up. Then this beautifully balanced single malt is left to settle in a small Solera tun before bottling.
The Taste: A full and fruity nose, with delicate honey and vanilla notes. The taste is elegantly smooth, with a deep flavour that reveals fruit, gentle spice and a touch of oak.
Tasting Notes by Glenfiddich Distillery

More Glenfiddich Info...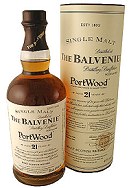 THE BALVENIE 21 YEAR PORTWOOD
To create The Balvenie PortWood 21 Year Old, rare 21 Year Old Balvenie - which has been matured in traditional oak casks - is transferred to a port cask, or pipe, which has held fine port wines. Here it is sampled every month by The Balvenie Malt Master to ensure that just the right amount of character is imparted by the port casks, enhancing and developing the single malt, whilst preserving its original characteristics.
At the 2005 International Spirits Challenge, The Balvenie PortWood 21 Year Old was awarded a prestigious Gold Medal.

Taste: A single malt of refinement and remarkable character, it is creamy and silky with fruit, honey and spice notes, and has a long and gentle nutty finish.

Tasting Notes Courtesy of The Balvenie

More Balvenie Info...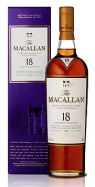 THE MACALLAN 18 YEAR OLD SINGLE MALT SCOTCH WHISKY
The Macallan Sherry Oak is exclusively matured in selected Sherry oak casks from Jerez, Spain. This satisfyingly complex Single Malt, matured at The Macallan distillery for a minimum of 18 years is characterised by its rich colour, aroma and flavour with hints of dried fruits, spice and chocolate orange.

Colour: Light Mahogany
Nose: dried fruits and ginger, with a hint of citrus, vanilla and cinnamon
Palate: Rich dried fruits, with spice, clove, orange and wood smoke
Finish:
Full and lingering, with dried fruits and sweet toffee, ginger and a hint of wood smoke.
Tasting Notes by The Macallan
More Macallan Info...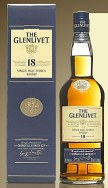 THE GLENLIVET 18 YEAR OLD SINGLE MALT SCOTCH WHISKY
Color: Dark amber.
Nose: Full. Some peat, floral notes, sherry, honey and fruit.
Body: Firm. Quite smooth.
Palate: Full, round, floral. Some sweetness and quite rich.
Finish: Rich. Drying, with spice and smoke.

Comments: Elegant, complex, oaky and fruity. An enticing bittersweet symphony.

Tasting Notes by The Glenlivet Distillery

More Glenlivet Info...




CRAGGANMORE 12 YEAR OLD SINGLE MALT SCOTCH WHISKY
Nose: Silky, elegant and rich: currant bushes, sweet fruits, honey, cream, leather, rich malt, chestnut. Water makes it smokier. Fruity with a savoury edge.
Palate: Lovely weight: honey, blackberry, cooked fruits, walnut, dried apricot. A mid- to back-palate whisky which is robust, yet silky; meaty but elegant. The word is complex.
Finish: Tingle of heathery smoke binding it together.
Comment: The most complex of the flight by some margin.

Tasting Note by Michael Jackson

More Cragganmore Info...
Whisky.com's Top 5 Mainland Single Malts



OBAN 14 YEAR OLD SINGLE MALT SCOTCH WHISKY
Appearance: Olive gold.
Nose: Rich sweetness and fruits - oranges, lemons and pears, with sea-salt and peaty smokiness.
Body: Full, rich.
Palate: Mouth-filling late autumn fruits - dried figs and honey-sweet spices; followed by a smoky malty dryness.
Finish: Long, smooth-sweet finish with oak-wood, dryness and a grain of salt.

More Oban Info...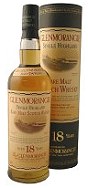 GLENMORANGIE 18 YEAR OLD SINGLE MALT SCOTCH WHISKY
Colour: An attractive deep gold colour, warm and enticing. Distinctive from the Ten Year Old, but without the heavy darkness of some extra aged malts.
Aroma: The bouquet is very full, round and perfumed with nutty, caramel and vanilla overtones.
Taste: Exceptionally smooth, 'silky' and round. Fine, fully flavoured and subtle.
Aftertaste: With a long, consistent aftertaste, it is delivered with great intensity and depth.
Comments: The changes that take place during the extra eight years of maturation are profound. A superb after dinner dram.

More Glenmorangie Info...




GLENGOYNE 17 YEAR OLD SINGLE MALT SCOTCH WHISKY
Appearance: Medium gold with a rich glow.
Nose: Some sherry, Christmas pudding. Plenty of fruit - raisins, ripe apples and tinned oranges in syrup.
Mouthfeel: Rich, mouth-coating.
Initial taste: Malty, treacle, slightly nutty. Orange peel, apple compot. Rich oak.
After Water: Pear Drops and vanilla.
Finish: Long and rich, with spicy oak.
Comments: Multi award winning dram. One of the greats. Possibly the best pound for pound dram on the market.

More Glengoyne Info...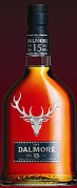 THE DALMORE 15 YEAR SINGLE MALT SCOTCH WHISKY
Time, cask type and warehouse conditions can all influence the maturity of a single malt. For this Dalmore, 15 years in bespoke Matusalem, Apostoles and Amoroso sherry butts from Jerez de la Frontera have all been elemental. The redolence of these vessels delivers the perfect balance between spirit, wood and maturity.
Potent and robust, this expression delivers a rich and aromatic taste experience.
A rich and aromatic heart full of dried spices, cloves, cinnamon and ginger with a concentrated citrus mouth-feel to tantalise your tongue and an abundant aftertaste of spice to reward the palate.
Double Gold Medal - San Francisco World Spirits Competition 2009
Tasting Notes by The Dalmore

More of The Dalmore info....
Whisky.com's Top Island Single Malts



ARDBEG CORRYVRECKAN
Corryvreckan takes its name from the famous whirlpool that lies to the north of Islay, where only the bravest souls dare to venture. Swirling aromas and torrents of deep, peaty, peppery taste lurk beneath the surface of this beautifully balanced dram. Like the whirlpool itself, Corryvreckan is not for the faint-hearted!
Tasting Notes
Colour: Deepest amber
Aroma: Heady, intense and powerful.
With the first sniff, encounter the deep and turbulent force of Corryvreckan as it pulls you inwards. Swirl the glass and dip your nose into the torrents of tarry ropes, creosote and linseed oil rising from deep within the vortex. As you succumb to its power, a collision of waxy dark chocolate, warm blackcurrants and muscovado sugar pulls you under its spell with a burst of plump cherries and earthy pine needles leaping from its depths.
Swirl water into the glass, and observe the magical collision of whisky and water. As the liquid warms up, the seething cauldron bubbles and bursts, as you edge closer to sniff a pot full of gutsy cayenne-peppered steak and oysters smothered in hot pepper sauce. Salty seasoning brings a briny character with tangy crisp seaweed and smoky bacon swirling on the surface with hints of sweet vanilla, spicy cloves and blueberries.
As the whirlpool narrows and quickens moving ever deeper, surrender to its dangerous depths with the heady force of menthol, treacle and chilli sauce.
Taste: Plunge into the whirlpool and taste the mysterious depths of Corryvreckan. Torrents of taste well up on the palate; deep, peppery and chewy, bombarding the tongue with its intense tastes and textures.
The first plunge brings forth chewy peppered steak soaked in pepper sauce with the tang of crispy seaweed. As you descend deeper, encounter a mouthful of black tarry espresso coffee that coats the palate with rich melted dark fruits (blackcurrants, blueberries and cherries) and bitter almonds. As the taste soaks in deeper, star anise and hickory dry out the palate before a surprise of chalky effervescent violets fizz to the surface.
Finish: Long, deep and remaining powerful into the finish with black tarry coffee, chocolate coated cherries and hot pepper sauce, the lingering memories of your mysterious and daring journey into Corryvreckan.
Tasting Notes by Ardbeg

More Ardbeg Info...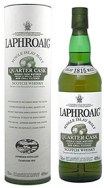 LAPHROAIG QUARTER CASK SINGLE MALT SCOTCH WHISKY
Colour: Full sparkling gold.

Nose: Burning embers of peat in a crofters fireplace, hints of coconut and banana aromas.

Body: Full bodied.

Palate: Deep, complex and smoky yet offers and surprises the palate with a gentle sweetness.

Finish: Really long, and dries appropriately with smoke and spice.

Tasting Notes Courtesy of Laphroaig Distillery

More Laphroaig Info...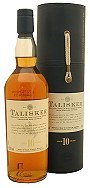 TALISKER 10 YEAR SINGLE MALT SCOTCH WHISKY
A wonderful award-winning Island malt bottled at above average strength with a comforting smooth afterglow.
Strength: 45.8% ABV
Appearance: Brilliant gold.
Nose: Peat-smoke with sea-water saltiness, the liquor of fresh oysters, a citrus sweetness.
Body: Full.
Palate: A rich dried-fruit sweetness with clouds of smoke and strong barley-malt flavours, warming and intense. At the back of the mouth is an explosion of pepper.
Finish: Huge, long, peppery finish with an appetising sweetness.
Tasting Notes by Talisker

More Talisker Info...
Discerning drinkers were denied the allure and sensuous pleasures of single malt whisky for decades. While Scotland had over a hundred distilleries producing malt, most of that production went into blended Scotches. The few who marketed their malt whisky "straight" were considered the exception to the norm. Fortunately, the past two decades have led to an astonishing growth in the number of single malts available.
The term "Single Malt" alludes to the fact that the whisky comes from a single distillery. Bottlings of single malt can contain whisky from several casks and most often do, whereas the term single single could refer to a bottling from a single cask. The practice of combining exclusively malt whisky from different casks, at a single distillery, is called vatting. Once combined they are sometimes kept in wood for a period to marry.
If it is all malt whisky from a single distillery, it is a single malt. Some distilleries might use the less precise term pure malt to describe a single but this term, or malt whisky, is most often used to describe the product when several malt distilleries have contributed.
Until the 1980s, single-malt whiskies remained rare outside Scotland. There were exceptions, like Glen Grant, but the large whisky companies, those who had made their fortunes out of blended whisky, were opposed to spending money and resources promoting single malts.
By the mid 1970s, stocks of whisky in bond were the highest they had ever been, and were rising fast. In 1963, the directors of Willian Grant & Son, owner of the Glenfiddich Distillery, resolved to set aside stock with the view to promoting their whisky as a single malt.